CONNECT THE DOTS – THE INFLUENCES IN MY LIFE THAT SHAPED ME
At age 4, I suffered from meningitis which was as a result of extreme heat (one of the negative effects of climate change to health). According to my mum, I was taken to a general hospital in the local community where we lived, and almost all the medical doctors couldn't do anything about it because they felt it was an extreme case of meningitis. I was referred to another hospital in a neighboring community, where the resident doctors advised my mum to take me home instead of wasting her effort and stressing herself on a child who is almost gone. The mother and child bond made her refuse to take me home. After several hours of staying and pleading, one of the student doctors approached her and offered to help. He ensured that I was re-admitted and he administered some form of alternative treatments which helped me recover speedily. I can't over-emphasize the number of injections I was given but it was worth it.
17 years later, I was in my final year as an undergraduate student of the first and prestigious tertiary institution in Nigeria; Yaba College of Technology, where I came across an essay contest online tagged: Nigeria Climate Contest. We were required to write an essay concerning our personal experiences on the effects of climate change in our environments. I opted in without much hope and submitted an entry. I wasn't really expecting any positive feedback because of the limited time I had to come up with the essay. Surprisingly, I got a congratulatory message 2 weeks after. The mail stated that my essay was chosen as one of the two winning essays and I was entitled to an all-expense paid trip to Abuja (the capital city of Nigeria), free accommodation, feeding and cash remuneration. I couldn't explain how happy I was, considering the limited time I had to submit the essay which got me my first flight experience. Since I was a child, I had always fantasized on how splendid it would be to fly in a plane. And now the dream became a reality with all expenses paid.
I went to Abuja to take part in the National climate march towards the government house and the presidential villa. The essence of the march was to bring to the notice of the law makers the urgency of making and signing a climate law. I was privileged to share my climate change experience with over 50 climatters and environmentalists. This experience built my passion for climate advocacy and so I was nominated to attend a world climate simulation training which of course served as an avenue for me to know more about my newly found love (Climate Change). I came out of the training filled with ideas and innovations. I decided to do something.
Shortly after the World Climate Simulation training, I went into research and realized that a lot of people are actually suffering from the effects of climate change all over the world, ranging from flood to erosion, to high sea level, to heat and to other diseases like meningitis. In the Northern part Nigeria (Sub-Sahara Africa), a lot of children die from meningitis and other diseases which are caused by climate change. A handful of people loss their houses to flood and farmers loss their produce to drought. All of these added together made me launch: TAD Initiative, a project that serves as an online sensitization hub for issues relating to climate change, environmental sustainability, and community services. We innovatively reach out to people through the act of storytelling, using photography, digital media and animations for advocacy, in order to prevent and combat the effects climate change in the community.
---
More about the Abuja climate march and the National Assembly
Article by Smart Chukwuma (a climate change expert and environmental activist)
---
I think art is so important, especially for young people who often feel that they don't have a voice. As a teenager, I had an uncanny love for literature and photography. Every now and then, I'd nip my pen on a sheet of paper to pour out my feelings either through poems or prose. I envisioned myself entering the corporate world writing such pieces of art before branching out to pursue a career in human resource. Through writing, I have been able to express myself and also made my voice heard in my community and social networks where I belong. I have also been able to make immense impact in the lives of people who follow and read my blog. I'm hoping to create accessible writing resources for young people, and create a community, using my platform, to encourage expression and artistic pursuits.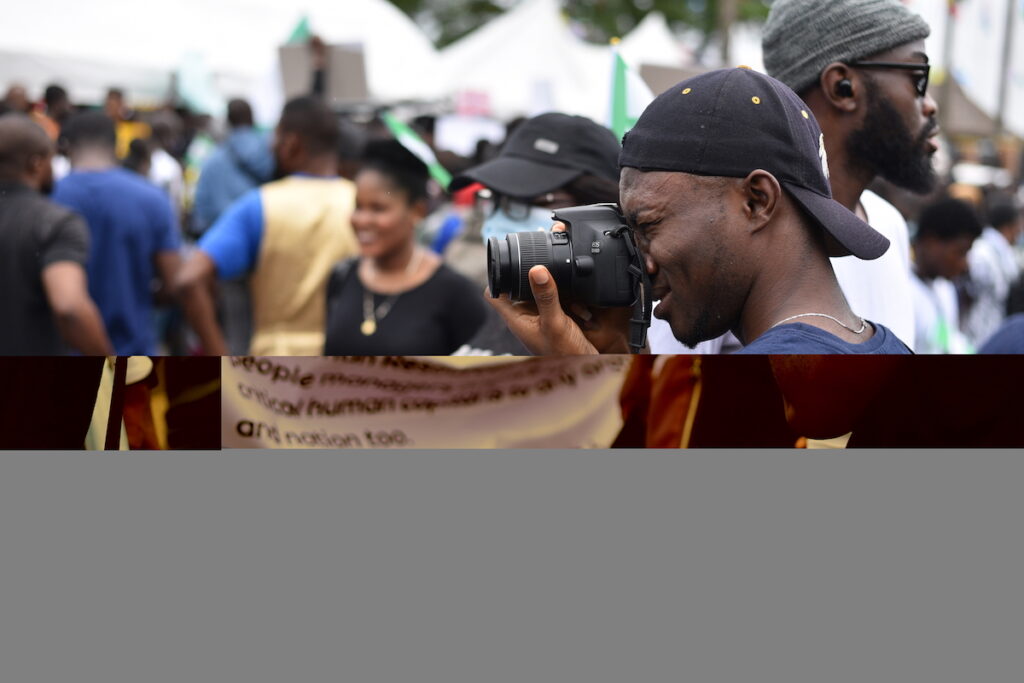 My project: TAD INITIATIVE has connected the dots for me and has also influenced me to become a person who positively impacts his environment and the people around him.
ABOUT ME
Daniel Akinjise a young active citizen who was awarded the "Thumb Award" in 2018 by Enough is Enough Nigeria for his commitment in ensuring youth participation in governance in Nigeria. In 2019, he was nominated for the MAATHAI IMPACT AWARD, served as a consultant on youth and peace building for Peace Direct and United Networks of Young (UNOY) Peace-builders and selected as a delegate to attend the World Youth Forum- Egypt in 2019, West Africa Youth Internet Governance Forum- Sierra Leone in 2020, and YOULEAD Business Leaders and Policy Makers Bootcamp- Tanzania in 2021.
His experience working with youth-led nonprofits has helped him acquire skills in graphic design, project management, photography, and talent management. He's the founder of TAD Initiative, (a youth led platform focused on climate actions and environmental sustainability), and Empowered Youth, (an Initiative that helps young people acquire skills through mentorship and peer learning). He has supported movement on human capacity development and economic empowerment (United Nations Volunteer, British Council, Junior Achievement Nigeria, Hienrich Boelle Stiftung, Leap Africa, Paradigm Initiative and EIE Nigeria etc.) Daniel is passionate about environmental sustainability, youth development, good governance, and capacity building.
---
Daniel Akinjise is also part of the online exhibition, CLIMATE CULTURE. You can view his photograph alongside other art, culture and climate action contributors here.
---
To view all contributors: TAKEOVER Full List