New Beginnings
Hello all and Happy September,
I am so grateful to be invited by Ashleigh Downey to take part in the greenhouseculture.ie Takeover this month. Recently I connected with Ashleigh through the "Wild Postcard project" as part of greensodireland.ie "Wild Acres Week". I was overwhelmed that my drawing "Leitrim Hare's Tail Cottongrass" won the pop up competition. This specimen of bog cotton came from a small area of wetland near Thur Mountain, Leitirm. Through my drawings I hope to share a sense of empathy with our local environment and biodiversity.
When writing this piece, I connected with a local agency www.goodenergiesalliance.ie here in Leitrim. They are doing fantastic work around our local peatlands. They estimate that more than 20% of Leitrim is covered in wetlands and that about 3% of all national wetlands are in Leitrim. Major protected bogs in Leitrim include Aghavogill, Thur Mountain and Corry Mountain bog. Besides those, hundreds of minor wetlands are scattered around. Some of those are under voluntary conservation-rewetting programmes. The raised bog on Mount Allen Organic Farm, near Drumshanbo, is one such area and GEAI is part of the consortium reviewing its rewetting programme. The results of this will be included in a future programme directed at local farmers, encouraging them to rewet their peatlands.
One of GEA's findings is the speed at which native plants recolonise bogs once a resetting programme has started. Spagnum moss thrives, but also sundew, rushes, heathers and bog cotton. Bogs, as well as their important carbon sequestering capabilities, are very important for biodiversity in Ireland. Here is the link of GEAI series of blogposts, articles and interviews about peatlands. https://www.goodenergiesalliance.ie/projects/ongoing-projects/peatlands-a-series/
---
NEW BEGINNINGS
Today is the first day of Autumn 2021. I see September as a month of new beginnings. I took a walk this morning after dropping off my daughter to school, noticing a change of colour in the landscape. Hardy spires of the purple toadflax line the laneways, interspersed by fiery flashes of wild montbretia and dock which has gone to seed. The violet-blue heads of devil's bit scabious stand forward as the meadowsweet and willow herb fade back. Bramble, hazel and bilberry bear fruit and honeysuckle is flourishing, providing late nectar for the bees and insect pollinators. The oak is bronzing and the air is clean.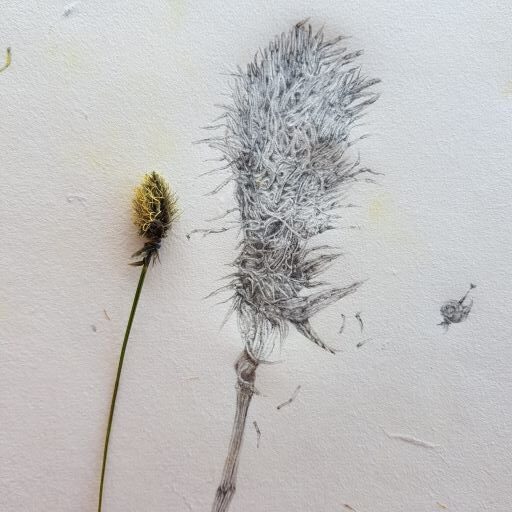 Both of my parents come from small, self-sufficient farms in County Leitrim. My mother's homplace is near 'Thor mountain' and my father's under 'Sliabh an Iarainn'. Many of our childhood holidays were spent on my grandparent's farm in North Leitrim and this is where I learned about plants and nature. I remember the excitement of holding my first baby leveret, seeing mink on the riverbank and watching brown trout swim up river. My home looks out over 'Sliabh an Iarainn' this mountain inspires me daily. I love to walk it and to Kayak on Lough Allen and look out over it. It's a thin place. Nature has always been a part of my life. We were lucky to grow up in a family which has a deep and connection to nature. My parents still recall the fun they had on "Fraughan" or Billberry Sunday, after mass on the last Sunday in July. The community would get together and head up the 'Sliabh an Iarainn' and 'Thor mountain' to gather bilberries, the first berries of the season and to socialise. Billberry Sunday is believed to have evolved from the ancient Celtic festival of Lughnasa.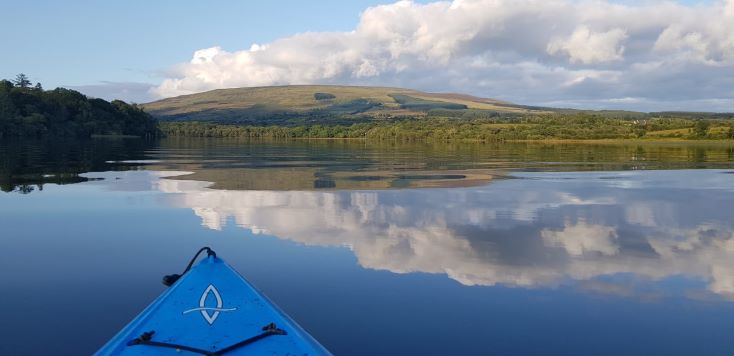 When I was young I loved heading off across the fields or down by the river with a sketchbook to draw. I relished in the response from my father, he would look at my drawings of plants and seeds and butterflies and say "Aren't you in your element A Gŕa" I am grateful to have grown up with adults who nurtured my interest in art and nature and that my own family have such a keen interest in nature.
Over the past couple of years, I have been focusing my attention on a field at home in Leitrim. I have been walking it, sitting in, drawing from it and sometimes doing nothing. When the world entered an induced 'anthropause' as a result of the COVID-19 pandemic, I spent much of my time in the field. There, I recorded the sound of the dawn chorus, took photos, sketched plants, explored the woods with family discovering different fungi and gathered natural objects for "useful crafts". One such project delivered through the National Museum of Ireland's amazing online museum at home programme was to "design a set of antlers inspired by the Giant Irish deer fossil skeletons on display at the Natural History Museum. Guided by a tutorial with artist and museum guide Renata Pekowska. This craft was easily created with found materials. Here is a photo of the Giant Irish deer masks created by Freya and her cousin.
Here is the link to Renata's wonderful video to inspire you to create your own. https://www.museum.ie/en-IE/Museums/Natural-History/Engage-And-Learn/Museum-at-Home/Make-your-own-Giant-Irish-Deer-Antlers
The value of "useful crafts" and making over this time of the pandemic has been impossible to quantify. It has helped to develop skills, focus attention, self-development, curiosity and offered many hours of screen free activity.
Another lovely project for the whole family to engage in and one we really enjoyed enjoyed was https://www.museum.ie/en-IE/Museums/Natural-History/Engage-And-Learn/Learning-Resources/Birdsong-Challenge Birdwatching or listening to the birds is a mindful practice, it requires you to do nothing, to stop and to listen. It's a joy to identify a bird and discover its voice – the wren, robin and blackbird, I think these three are my favourites.
Over the lockdown the 5km travel restriction didn't hinder but imposed a structure whereby I could give myself permission to slow down. I've been focusing my attention on drawing. "Field studies" is a growing collection of pen and ink drawings of native wild plants which are often overlooked and underrated, growing in a semi-natural grassland. It is a slow process; I have to sit with it. As we share our space with nature, these weeds and wild plants, I believe by coming to them, they hold space for us. The more I learn about them, the more they nurture me.
In the Third Landscape Manifesto, Gillies Clémant refers to "nature" as " this mysterious common good"

"Field studies" are stitch like drawings, the mark-making becomes a repetitive mindful practice of sketching, stippling, scratching. Thread like lines permeate my work. I developed my drawing, etching, hand stitching and free motion embroidery during my formative training in textiles. These threads have kept me connected. I am drawn to threads and roots, and the idea of being rooted in this landscape, my connection to place. These are ideas I want to continue to explore.
The Way It Is
by William Stafford
There's a thread you follow.
It goes among things that change.
But it doesn't change.
People wonder about what you are pursuing.
You have to explain about the thread.
But it is hard for others to see.
While you hold it you can't get lost.
Tragedies happen; people get hurt
or die; and you suffer and get old.
Nothing you do can stop time's unfolding.
You don't ever let go of the thread.
---
Please take a look at this beautiful video from www.kathrynoliver.com the music is 'Walk' by Ludovico Einaudi.
I love this piece of music by Ludovico Einaudi. Continuing this thread, here is a link to another stunning piece of music which I go to. Conor Walsh was an amazing, underrated composer from Mayo. He passed away in 2016. This is the title track from Conor's' debut EP "The Front", released on 30.10.2015 via Ensemble Records. http://www.conorwalshmusic.com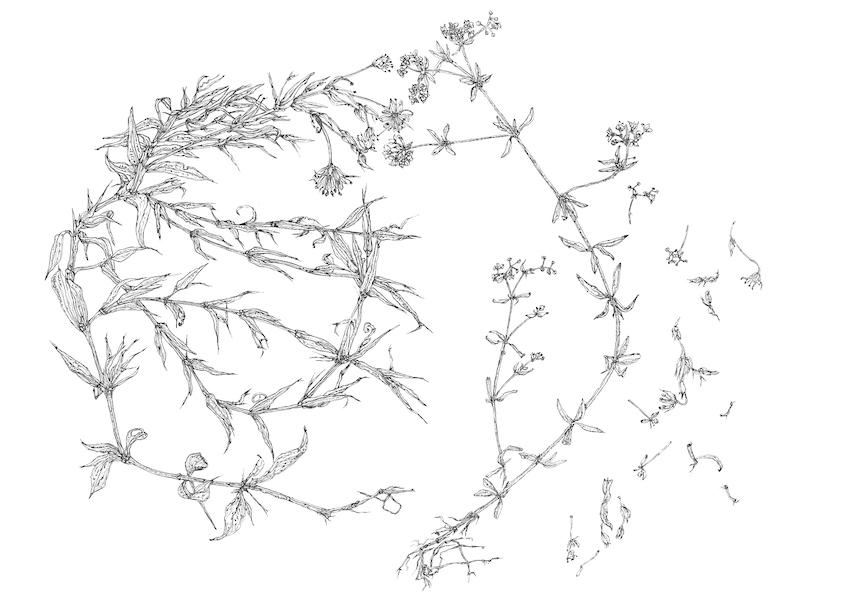 ---
LANGUISHING
According to a New York Times article published in April 2021, the key trending term to describe COVID-19 is " languishing" a term coined by a sociologist called Corry Keynes. Keyes was struck by the number of people who weren't depressed also weren't thriving. Languishing refers to a chronic condition which dulls the mind, our motivation and ability to focus, it's a feeling of being beside yourself. In a world of chaotic soundbites and a pressure to always be 'switched on' increased loneliness and feeling of isolation induced by the pandemic may also be contributing factors. I believe that time spent in nature helps to filter out the noise of everyday life. And that following the cyclical pattern of the seasons can help to counteract these kinds of feelings. It is helpful to think about some positives over this time, a breathing space for nature and for humans to slow down and rest.
---
Silver Linings
by Nikita Gill
When uncertainty sends your spirit declining,
and anxiety becomes as familiar as your own name,
pause, breathe, let me show you some silver linings.

They say that the swans and the dolphins have returned
to Venice and the waters have become clear again.
They say you can finally see a blue sky in Wuhan again.
Who knew social isolation could bring people closer,
we see all of Italy sing to each other from their balconies,
people finally calling up to check on their neighbours.
Children walk from porch to porch delivering the elderly's shopping.
And we will never again take meeting each other for granted,
we will realise that kindness is what makes life worth living

So especially when it feels like the world is ending
you must remember that endings are also beginnings,
that there is always light to be had at the end of grieving.
As more people are out walking over the time of the pandemic it feels as if it is time now to keep this momentum going, to forge a deeper connection with nature as being essential to our health and wellbeing ad to remind us in a sustained way of the fragility of nature and our responsibility to take care of it. As a parent, nature lover and art educator I love this message from Ken Robinson " the gardener does not make the plants grow. The job of the gardener is to create optimal condition" or as Rachel Carson expressed "If a child is to keep alive his inborn sense of wonder … he needs the companionship of at least one adult who can share it, rediscovering with him the joy, excitement, and mystery of the world we live in."
We have a responsibility to our children to create the conditions where they can flourish and feel 'in their element' and a sense of wonder in nature, to explore their own creativity and to gain a sense of responsibility for themselves and for the natural world.
---
COMMUNITIES OF CONNECTION
I would like to mention a couple of wonderful creative projects we connected with from home during the lockdowns.
1. "Home is where the art is"
In March 2020 at the beginning of the first countrywide lockdown, the team at the Regional Culture Centre, Letterkenny designed a project to ensure that the children of primary school age would stay creative while in lockdown at home. Each day for the duration of the lockdown they released new themes to get children engaged in art, creativity and nature. The children's work was photographed and sent back each evening and the team at RCC would highlight and respond to their work. This was an amazing socially engaged project. The project culminated in an exhibition of 1000's of children's artworks from all over Ireland were exhibited on the windows of the RCC, while the galleries remained closed, enabling the public and families to view the work outdoors. https://regionalculturalcentre.com/event/homeiswheretheartis-rcc-for-kids/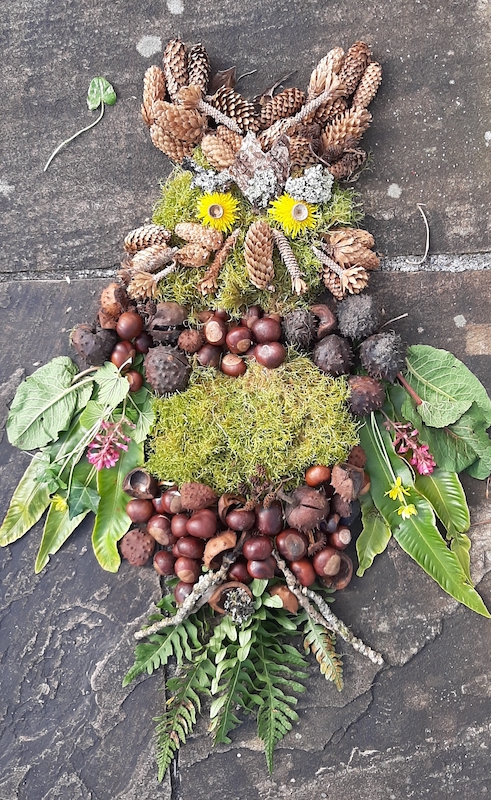 2. Another highlight was disCONNECT (July/August 2020): a locked down Urban art 'takeover' in London townhouse, responding to COVID-19 pandemic. Schoeni Projects, London presented disCONNECT, an exhibition transforming a South London townhouse with new site-specific works from ten urban artists working across seven countries in collaboration with HKwalls – a Hong-Kong based non-profit arts organisation. Schoeni Projects extended an invitation to all including young people to respond and these responses have been immortalised in a virtual reality tour of the exhibition found online here. https://schoeniprojects.com/disconnect
It has been a joy to connect with some amazing online communities of practice through the summer and am pleased to be exhibiting some works as part of wider socially engaged arts projects this Autumn including:
Pluid – The National Comfort Blanket (@pluid.project2021) is a collective artwork made up of nearly 1200 small square original artworks considering the theme of comfort which will be assembled like connected crochet-squares and exhibited as our 'national comfort blanket'. At The Cowshed Gallery, Farmleigh Estate from 27th August – 5th September 2021. Following the exhibition, the individual artworks are being auctioned online in aid of Pieta House. The auction is live until the 19th September- here is the link: https://go.rallyup.com/pluid
#flightpathcommunityproject was instigated by an amazing artist called Louisa Crispin. The FlightPath series explores the materiality of graphite media whilst considering the plight of our less popular insects. Focusing on wildlife corridors and the importance of a network of routes between habitats to ensure diversity, the work aims to resolve the tension between abstraction and figuration while encouraging open discussion. #flightpathcommunityproject exhibition takes place at Kaleidoscope Gallery in Sevenoaks, Kent from 23-27 November 2021. https://www.louisacrispinart.co.uk/more/community-project-flightpath
To end with a sense of hopefulness and kindfulness for the months ahead and this passage from the wonderful nature writer and marine biologist Rachel Carson.
There is symbolic as well as actual beauty in the migration of the birds; in the ebb and flow of the tides; responding to sun and moon as they have done for millions of years; in the repose of the folded bud in winter, ready within its sheath for spring. There is something infinitely healing in these repeated refrains of nature, the assurance that night after night, dawn comes, and spring after winter.
To new beginnings. Thank you for reading.
Anna-Marie O'Rourke
contact: amor.botanicalart@gmail.com
---
Feature image title: Leitrim Devils bit sabicous
---
To view all contributors: TAKEOVER Full List