Connect the Dots
I am a divil for hoarding newspaper and magazine articles – every Sunday I first scan all the papers and accompanying magazines and dog-ear the pages with articles I want to go back to and read properly. Many articles I tear out and keep because there's something within them that resonates with me, or that I think will be some useful reference material at a later date, or there's some book or product reviewed that I want to look into more or buy. Although I'm overwhelmed a lot of the time by the information I hoard in this way – I've come to accept that its my process and there are gems of information and thought provoking commentary within these clippings.
Like that of journalist and author Edel Coffey* in the Sunday Business Post magazine of January 9th last wherein she referenced a new book by Christian Busch called 'Connect the Dots: The Art and Science of Creating Good Luck' – its underlying premise is that good luck comes to those who put themselves in the way of opportunities rather than waiting idly by for it to drop from the sky. The book made Edel think about the art of making ones own luck happen and in turn, her article has made me think about the momentous turning points in my own life and whether chance encounters or proactive tenacity on my part made them happen. I have to tell you – it was unanimously the latter.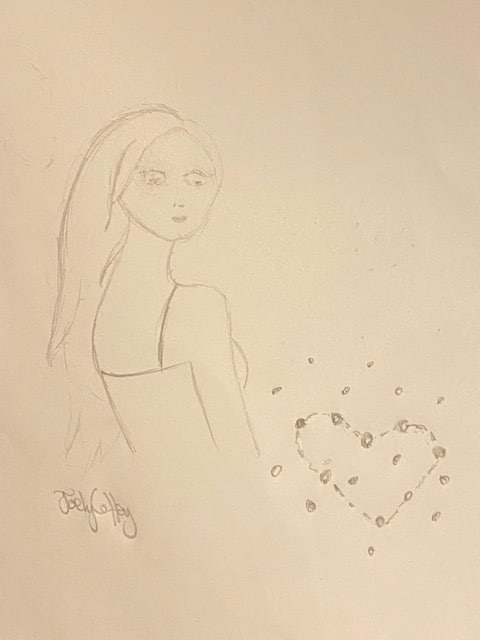 With St Valentine's Day in the air, let me take you back to the eve of St Patrick's Day 2002 – a wet and windy night in Dublin city and my friend Cliona and I were persuading ourselves that a night in with a bottle of wine and the telly was a better option than the house party invite which would require us to brave the elements outside. When another friend called and asked whether or not we were going to said party, I shook myself out of our single stupor, stood up, turned off the TV and said my mother's wise words –
"Well they're not going to come calling at the door to us".
Meaning – if we didn't put ourselves out there, how else would we ever meet anyone nicer than ourselves? We went to the party and buoyed up with a little liquid Dutch courage, I approached the guy (a mutual friend) whom I had spotted a couple of times previously and made my approach. The rest as they say is history …. 20 years and one daughter and a mini-schnauzer dog later we are one small happy family …. although we have nicknamed the dog Camilla and my husband Diana, because the two of them are definitely competing for my affections …. and if I'm honest, the dog is the front runner!
If you're single and wondering when you're going to meet that special someone – let me tell you, thunderbolts, cupids arrows, love at first sight, being swept off your feet are not as prevalent as the fairytale tellers or Hallmark cards would like us to believe. In my occasional role as a Wedding Celebrant, I have written the 'Love Stories' of many couples, about how they met and what precipitated their eventual 'getting together' – invariably it took one or both of them grabbing the preverbal bull by the horns and pushing themselves out of their comfort zone to say 'yes' when the opportunity for a first date (or snog) presented itself.
Romance is rarely passive serendipity – it requires effort and strategic intervention to put yourself in the way of love to happen – and moreover, not overlooking the potential gems right under your own nose. I suppose you could call me a Romantic Realist – and I arrived at this philosophy through the lens of another famous Dot Joiner – Steve Jobs – who in his legendary 2005 Commencement Speech at Stanford University said –
"You can't connect the dots looking forward …. you can only connect them looking backwards."
If we apply Steve's doctrine to the sometimes treacherous pursuit of romantic love – its only when you meet your true soulmate, a real decent, honest, love-worthy guy or gal, that you can look back to see the frogs you kissed or who broke your heart were not all that! Or to quote another great love philosopher – Carrie Bradshaw in Sex and the City – 'Men (or for that matter Women) are like shoes – you have to try on a few pairs before you find the perfect fit'.
So whether your heart is set on a flashy Manolo or a sturdy Ecco …. (insert here whatever your shoe metaphor is for your ideal love interest), remember you're only going to find out by stepping out of your comfort zone with them. And remember, in the spirit of sustainability, if he or she is not worth the pain and agony – re-cycle! One persons painful shoes could be someone else's ideal pair.
Happy Valentine's Day!
@foundlovehearts
(*Edel's debut novel 'Breaking Point' is out now @edelcoffey)
---
Tonyia also wrote, Sharing The Love: Found Love Hearts
---