Nurturing Nature connections
Softly treading through the autumn coloured forest floor with the sun dappled smile across my face, I feel my body lighten more and more with every breath I take. 'Forest Bathing' is a new term to me still but the benefits and the sensations are familiar and something that feels a part of me. Being outside, at one time, felt like it was saved for "exercise" or "outdoorsy people" but with every passing year I understand it as essential food for my soul. Every year I let go of labels and expectations and realise that Mother Nature is for everyone in so many ways. Whether you enjoy the exercise aspect or the views or the medicinal benefits that nature has to offer, our planet is providing us with the most spectacular home for every human to breathe in its oxygen.
My name is Jess and I run nature inspired workshops and programmes for children and families to reconnect with nature. Yes, you read that right: reconnect. I finished school dreaming of being a teacher but within one semester of my four year course, I realised that I wanted to pursue this work in the early years with children under 12 (primarily focused on under 6's). Studying Early Childhood Care and Education in Sligo many moons ago was the beginning of my winding path towards Mud Bugs, my small business based here in County Leitrim. In college my favourite subjects were Psychology, Art & Drama. Amazingly I have managed to bring all of these into my work with children when I'm facilitating a workshop of 'Nature's X's and O's' in a library room in Granard, Longford and when I'm running a programme for parents and toddlers in Boyle Family Resource Centre. Nature weaves all of my loves into one harmonious concept of nurturing nature connections for families.
I am a qualified Forest School Leader as well as doing some extra studies in Child Psychology and a couple of years ago I trained as a Personal, Business and Executive Coach with The Irish Life Coaching Institute. It was there that I have honed my skills in communication and listening which I believe are some of the things that have boosted my confidence and motivation to continue my work with Mud Bugs long past the lows of lockdowns and empty streets.
Recently, I have been involved with a democratic, self-directed learning space called The School of Empowering Education here in Leitrim. I am a director and social media volunteer with the school and one day we hope to be providing an open and welcoming space for children and young people from 5-18 years where they can choose how and what they learn. A big focus of the school is the environment so I feel it is very important to note it here as all of these courses and skills and projects are a part of me, a part of what makes up my being. They motivate me, inspire me and encourage me – the people I surround myself with because of all of these things mirror all of that motivation, inspiration and encouragement and it feels like we are building momentum… and we are.. beyond what any of us could ever do individually, we are building momentum and creating beautiful and wonderful things for others to enjoy and revel in.
Over the month of October I am going to share with you some activities that I use with families in and around Leitrim through my work with Mud Bugs. I will also be sharing my story of how Mud Bugs came to be and my hopes for my son's future. Join me over the next few weeks for nature, art, motherhood and connection.
---
We're going on a bug hunt!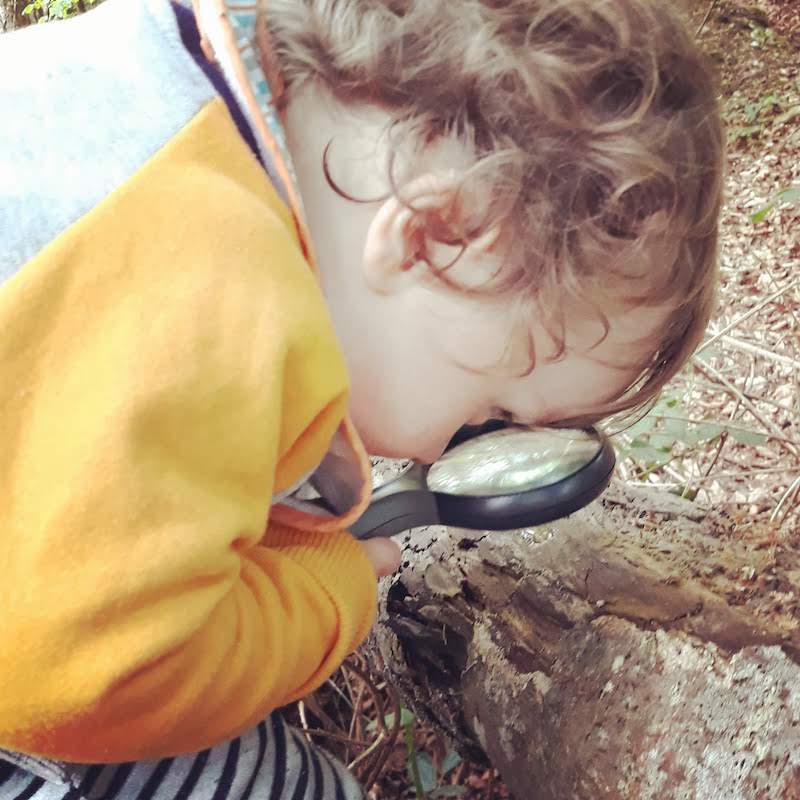 Notice the wording here: bug instead of insect. Most children I work with these days don't understand what I'm talking about if I ask them what insects they can name or recognise. As soon as I say "bug" they get it. That makes me very aware of our consumption of American film and television. Despite the language we use, it then takes a lot of children quite some time to get into the idea of looking for and touching insects. When I first started working in early years settings (creches and pre-schools) I realised how sterile our children's worlds had become and that's over 10 years ago so goodness knows how it is now. I grew up in a hilly, wet part of Leitrim, surrounded by fields overpopulated with rushes and mossy trees. I grew up at a time that seems to be the end of unsupervised childhoods. Now, we can't leave our children for a moment without being labelled as neglectful and irresponsible. But Jess, what has this got to do with nature and the environment? Well, in my eyes, a lot. Children that I work with now do not climb trees or get muddy or run through the fields. No, they stay clean and dry and are always reminded to "be careful" which means that natural risk taking that children need to explore is not happening which results in children and childhoods that are barren of adventure and exploration and creativity. All of this means that children are getting fewer opportunities to connect with nature and experience the risks as well as the exhilaration of nature. Now, I'm not quite patient enough for exploring the research around physical, mental and emotional health linked with declining exposure to nature (and unsupervised time when children can take risks, jump from those high branches etc) but I'm guesstimating that all of this will be impacting our children massively. Research has shown us that even having a view of a green space can improve a patient's recovery time in hospital so that alone gives me hope for children and future generations.
So when I tell children we're going on a bug hunt and I see the scrunched up noses or open mouths and anticipation building up in their eyes, I remind myself that I am honoured to be in a position to encourage nature play and outdoor learning and that maybe I might even be contributing to positive overall wellbeing of these little humans in a small way. Maybe more if I get the opportunity to work with their parents as well. As parents, sometimes we just need that new phrase or perspective to get us inspired and motivated for a new way of living or even just extending some outdoor time each weekend.
I also work with an incredible company called Biodiversity in Schools so I'm pushing myself and testing myself all the time by expanding my comfort zone and learning more and more about the biodiversity in Ireland. In these workshops we often use a bug hunt as a great way to get the pupils involved and immersed in the natural world of the school grounds so they feel more a part of it.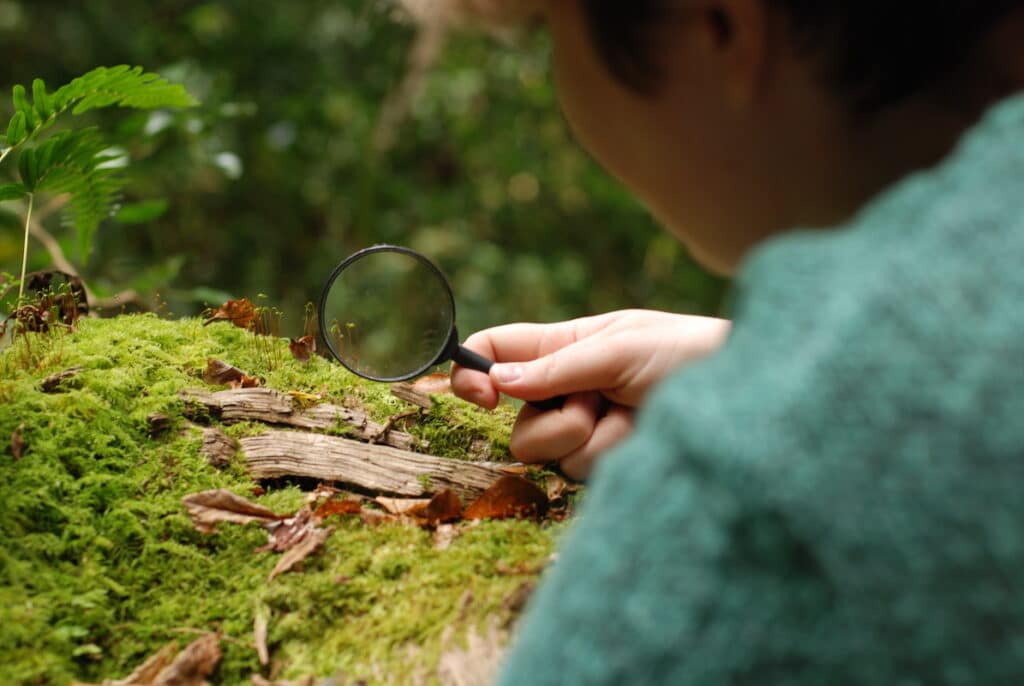 Activity: Bug Hunt
Materials: Magnifying glass (optional), Bug viewer (optional)
Ideal Spaces: Shady spots, near trees or rotting wood, overgrown areas.
This really is as easy as it gets with nature activities, look around and notice what insects are around. Over time build up your knowledge of insects. Find insects, try to identify them, talk about them, put them (gently) into your bug viewer and observe their body, their legs, their antennae, just notice what you can about them and get curious. If they have 6 legs what are they called? If they have no legs what are they called? If you enjoy writing or drawing, could you record them one of these ways? If you're doing this with your children, can you find ways to build on this such as creating a nature journal for these insect records?
I love using the National Biodiversity Data Centre website to log sightings and data. They offer lots of trainings, workshops including online courses and quizzes HERE. I love these for learning something new about the butterflies, bees and so many other animals and other areas of biodiversity in Ireland. I always remind my groups that I am not an expert of nature – I'm an enthusiast who loves sharing nature with children and their families so my learning will always be ongoing.
As with all of my activities, I love to see each one as a starting point and for you to build on and add to it as suits you. One of the many reasons that I am so excited to be part of The School of Empowering Education is because of it's self-directed learning philosophy. I have found myself confined by boxes since my school days and not because of one particular moment or teacher but because I felt so unfit for one box that I spent the 15+years trying to make myself fit into one that it will take some time to completely rid myself of that idea. I still feel a bit funny when I explain to people that I work for myself and I have a number of projects that I'm involved with. Those are words of my dreams but I still don't fully believe them. How could this be real? In these moment I have to use some coaching skills on myself and talk through how to really believe that this is real and I am worthy of believing in myself and to trust that others do too. Do you ever feel like what you do in life is a bit of a dream? As if it couldn't possibly be real? No-one ever told us that we could do this in school. All I remember is being told about the "real" professions that had a label not an artist though. Never did I hear about art being a potential "job".
---
Hello tree!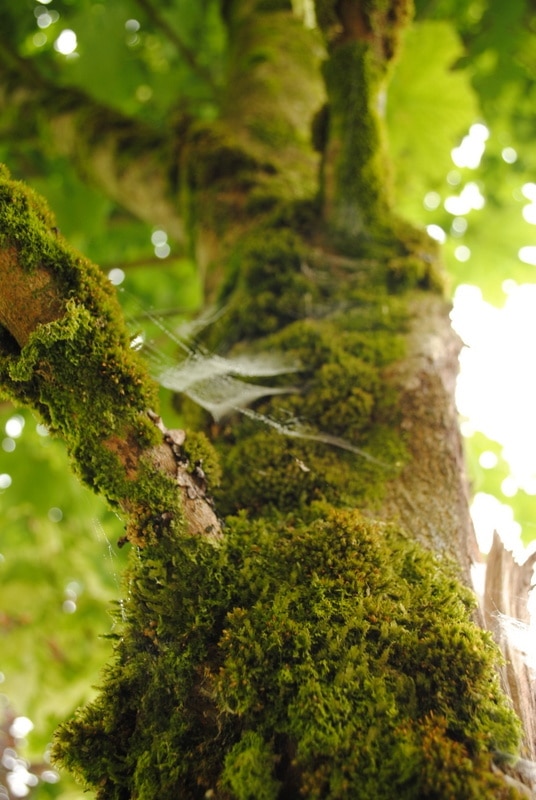 Trees are incredible and we can get so much from them as well as our essential oxygen. When I'm working with children in a forest, I often stop in a quiet area and ask everyone to choose a tree. I ask everyone to close their eyes, hold onto the tree for support and listen… and listen… and listen… We listen for 2-7 minutes depending on ages but you can do this for much longer if you feel safe to do so.
Slowly, I ask everyone to blink their eyes open and take a deep breath. One by one I ask the children what they heard. Sometimes, the answers include: "I heard her giggling" or "I heard the wind blowing the leaves in the trees" or "I think I heard a big truck on the road" or "I heard my Mammy talking".
Before we move on, I always ask the children to look closely at their tree and find a way to recognise it so next time they visit this forest, they can find their tree and connect with it again and again.
This is one of those activities that gets better every time you do it. There are some groups I get to see over and over again and when they know what's coming, they start before I've even uttered the words. One of the things I learned about the ethos of Forest School in my training is that it is run over a minimum of 6 weeks in order for the benefits to be enjoyed long term. I'm leaning towards this ethos more and more every year as I see the incredible benefits in my own son as well as those I've been lucky enough to see regularly. Consider the calm you feel when you walk among nature, particularly the trees and water. There is something very powerful about that feeling. Maybe it's the cleaner air or the soothing sounds of moving water or the breeze blowing through the trees but I always bring my thoughts to Stone Age times when risk of attack was high and my guess is that those quiet sounds were soothing on a totally different level because it meant that there was nothing moving in for the kill. Scary thoughts but I use these perspectives to help me understand why we are drawn to certain things in nature like water and feel calm and rejuvenated when we take a walk through a forest.
I'm no scientist nor a particularly patient researcher (as previously disclaimed) but I do love to think in ways that are creative and potentially have some factual truth to them. That being said I'm not the most serious person I know so maybe my thoughts and perspectives are just codswallop.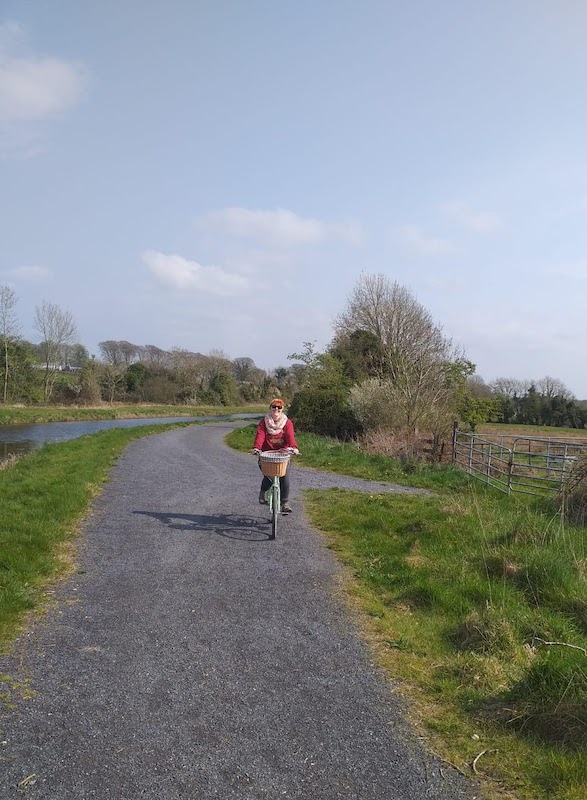 To end my takeover here on Greenhouse Culture, I wanted to reintroduce myself. 
My name is Jess. I am a daughter, sister, cousin, mother, partner, friend. I am an entrepreneur, a teacher, a coach, a director, a volunteer. Everything I do comes back to people and nature. While my roles and projects may seem varied to some, to me they all fit under the umbrella of freedom, nature and growth.
We are seeing more and more (or maybe it's just my awareness is highlighting more of these stories) insurance claim culture, mental health issues and loneliness (to name but a few) than ever before. These are all things that can be challenged with compassion, nature, slowing down and connection (albeit not total cures in themselves, I feel they can contribute to a more positive outlook on nature and our deep need for more connection with it).
We all play different roles and have so many different skills, experiences and talents. The spectrum of light that emanates from a single raindrop is practically invisible (from a distance – trust me when I say that those closest to you see your rainbow shining brightly) but when we stand together, that rainbow arches across the sky, miles wide with eyes wider and smiles wider again.
Ok, my default is to see the world like a musical so this may not be reality but I do know that in truth, our strength, power and inspiration multiplies when we work towards a similar goal. Being asked to be part of the Greenhouse Culture Takeover has been inspiring in itself. Sitting down to actually write something has been motivational. Considering the people who may read this and the people who have been part of this to date has encouraged me to keep digging, to keep moving forward with all of these projects and ideas and dreams. Some days it feels heavy and hard while others, I feel like I'm floating on a cloud smiling at all of you who float alongside me.
I hope that you find the thing that inspires you and motivates you. And know also, that YOU inspire so many people so keep doing what you're doing! Thank YOU for all of it because the domino effect it has will ripple through this world silently but beautifully.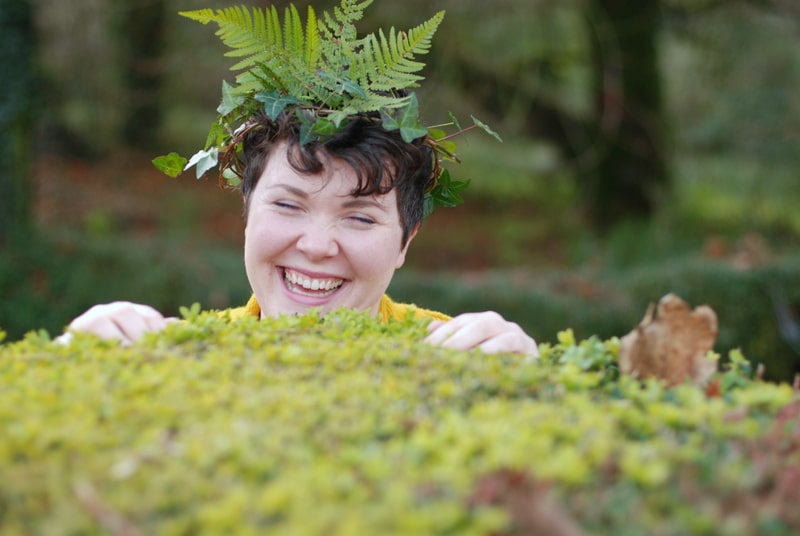 Jessica O'Rourke
Jess is a Leitrim local who has been running her own small business for over 5 years. Her background in Early Childhood Care and Education, Forest School training as well as her training as a coach have all led her to this point in life where she is balancing her work with her partner and son. Jess has worked in pre-schools, schools, parent and toddler groups and volunteered with similar in a township in South Africa too. Her view of the world has always been shaped by people and nature and her work and passion is to reconnect people with nature. Jess travels around the Northwest of Ireland with her nature inspired workshops for children and families. Jess will be taking over Greenhouse Culture for the month of September with a mix of anecdotes, activities and (hopefully!) some inspiring words of hope and collaboration.
More about Mud Bugs, and the magic of connecting children with nature HERE
---
To view all contributors: TAKEOVER Full List