Go Big Or Go Home
Go big or go home is a philosophy that encourages one to be bold.
To do whatever you do to the fullest.
To act with full authenticity.
The phrase seems somewhat appropriate for this post.
The phrase is said to have originated as a sales slogan in the 1990s. A motorcycle parts company in Southern California incorporated the term go big or go home in its packaging for some oversized Harley Davidson pipes.
Some believe that go big or go home originated in the sport of surfing. Others say the term derived from the jargon of the sport of mogul skiing in the 1980s. According to this story, skiers taunted each other into more and more spectacular skiing runs with the terms 'go hard or go home' and 'go big or go home'.
Though if you ask me, that's not a very nice use of a phrase intended (philosophically at least) to inspire bravery towards positive action.
Either way this phrase comes to mind when I think of Peter Bracken. Partly because both have a link with the sporting world. More so because the phrase reflects, for me, Peters' passion to go all the way.
I first met Peter Bracken at a Climate Reality Presentations meeting, back in late 2020. These support networking sessions are hosted by Shirley Gallagher, Deirdre Lane as Zoommaster and Anthony Day as Topicsmaster, with resident Climate Denier is Roisin Hyde.
Peter was presenting an idea for a project. A very interesting and ambitious project ,looking at how sport can help beat the climate emergency. However it wasn't the project itself that struck me most, but Peters passion and enthusiasm. As he told his story I became hooked.
Peter Bracken is a Climate Action and Sustainability advocate. He is a former professional rugby who played for some of Europe's top teams, picking up a Heineken cup medal along the way. Upon retirement he helped coach the Irish womens' rugby team to their Grand Slam victory in 2013. He now runs a business called The Scrum Doctor, a specialist coaching company that deals with the most physically and technically demanding end of the game.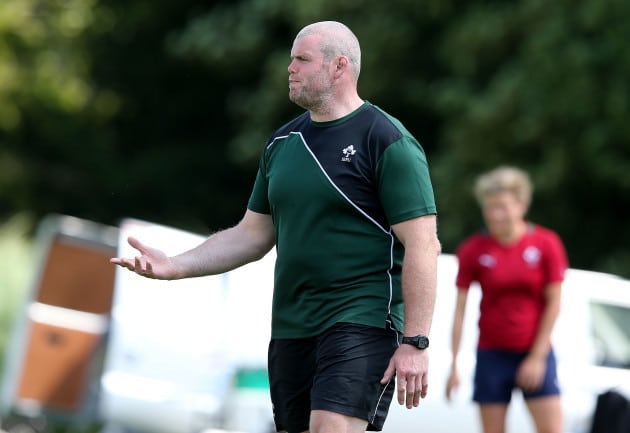 Peter is a father of two, and a full time carer to his autistic son. As Peter says himself, 'even though he thrives in the gritty and unglamorous world of rugby scrums, having his two children has softened him up'. They are his motivation for doing what he does.
Peter would like a better future for his children, and for the country of Ireland as a whole.
Peter sees climate change as a challenge to be faced head on. He does his small part by driving an electric car and recycling as much as he can. But like so many of us, Peter deep down knows he can do better, and more importantly that we can all do much better.

Having spoken to Peter I was struck by his passion to do something positive, and his desire to change peoples' mindsets towards a bias to action. He presents a wider, more interconnected perspective on how we might engage the world going forward. His enthusiasm is infectious.
I was most invigorated by Peters energy and positivity; not easy emotions to hold steady while working in the realm of climate change. As so many in the field will know, it can be so overwhelming. The amount of information, green washing, and indeed resistance can be disheartening to say the least.
One of the aims of Peters project (currently in the planning stage), is to see if he can decipher the mass amount of information and misinformation out there. To see what Ireland can learn to do better as a country, in terms of securing a sustainable future. To see what he can do better, from an individual perspective, and as a proud dad working towards a brighter more sustainable future for his children.
If we are to create a world where humans can survive; a world where we work in harmony with nature, and in collaboration with each other, then we have to Dream big, Think big, and of course Act big!
Peter is one man with one big ambition – to hit the climate crisis head on!
He sees an opportunity for sustainable development within the field of sport. He thinks globally, while taking action locally. Peter is acutely aware that NOW IS THE TIME for change!
Over the coming months, Peter Bracken will give us updates on his climate action project.
All I can say for now is WATCH THIS SPACE…
Peter Bracken : Vlog #1 : An Introduction
---
This post is written by the founder of Greenhouse Culture, ecological artist and curator Ashleigh Downey. By way, to introduce you to fellow green thinker Peter Bracken.
We are delighted to welcome Peter to our blog. Excited to share with you his first vlog. & looking forward to future updates on his project.
More vlogs to come!

Our sincere thanks Peter. xx
---
Photo credit: feature image by Getty Images