Sharing The Love
Found Love Hearts
My young daughter is aged 10 and both she and I love Love Hearts. We spot them everywhere –
in the shape of leaves, knots in a tree, stones on a beach – even in the shape of discarded chewing gum or bird poo droppings. Now that we have tuned into this instinct we cannot un-see love hearts, and everyday our subconscious antenna are on the look out for the shape or outline of a love heart wherever we go. This really came into its own during the first lockdown back in April and May – when our world shrunk to 2 to 5kms and we had to look more closely to spot the hidden wonders on our repetitive neighbourhood walks in Dublin 8.
The upshot is that this made us a lot more mindful when we were out walking with our dog Sonny – and amid the groundhog day chats about Roblox and homeschooling, what to have for dinner and squabbles over the permitted daily quota of take-away hot chocolate, we kept our eyes peeled and our minds distracted from the pressing global crisis, for whatever love hearts might reveal themselves.
Slightly irked by the never ending social stream of people – kids and adults – bragging about their Herculean achievements during lockdown – champion banana bread baking, marathon Joe Wicks sessions and slick TikTok dance routines – I felt compelled to do something with the only thing adding a new dimension to our days. So I set up an instagram account @foundlovehearts and posted photos of some of the emblems of love we had found on our daily rambles. For someone who hitherto shunned personal sharing on any social platforms, I took to this like a proverbial duck to water, because it restored something of what had been taken away from us since we first went into lockdown on March 12th of last year – human connection!

The beauty of @foundlovehearts is that it connected us to people who also shared our love of Love Hearts and appreciated the value of this mother daughter project especially during these challenging times. Some people shared found love hearts they had discovered themselves on their walkabouts or in the confines of their home – and it was a daily source of joy for us when people I knew or didn't know liked our photos with a red love heart like on Instagram. Serendipity or what!
It also struck a chord I think with what these times has taught us about valuing what we have and appreciating the beauty and love that is right in front of us, if we are lucky enough to have it. Last September I started studying for a post grad diploma in Design Thinking for Sustainability with Greenhouse Culture host Ashleigh Downey – and in the shadow of the global pandemic and the
ever encroaching threat of climate change, the fragility of our planet and the vulnerability of humanity have been brought into stark focus for not only me but the world in general.
The silver lining has been an awakening of our sense of gratitude and appreciation for the blessings we have right under our noses – be that family, friends, good neighbours, even a loving cat or a trusty dog (which has become the must have accessory of the pandemic).
These lockdowns – although not without their downsides and scary prospects in terms of livelihood and income security – have given us time to stop, take stock and re-evaluate our priorities. Stripping away the need to race here and there, making appointments, dropping kids to multiple activities, hitting deadlines, keeping up with the Joneses with material possessions we no longer have the occasion to use or showcase – we have realised that we want for very little in the grand scheme of things. A roof over our heads, some food on the table, money to pay the essential bills, the odd square of chocolate or glass of chianti – whatever you regard as a little 'treat' at the end of these languid days.
But what we can't do without is love and human connection – whatever form or shape that comes in. A husband, a wife, a partner, a child, a friend, a relative, a smiley neighbour, a pet – whoever crosses your socially distant path each day with a muffled hello or smiling eyes behind a face mask. These are the little things we appreciate now more than ever and puts a smile on our face – like found love hearts in the shape of a rain puddle or the shape of a cheese n' onion crisp.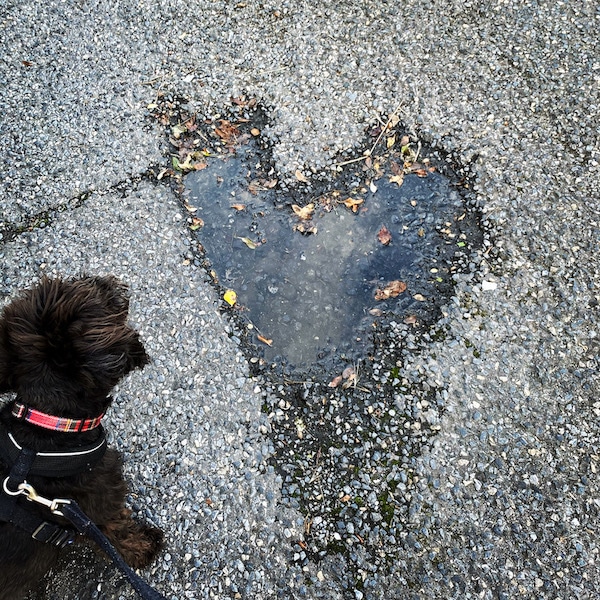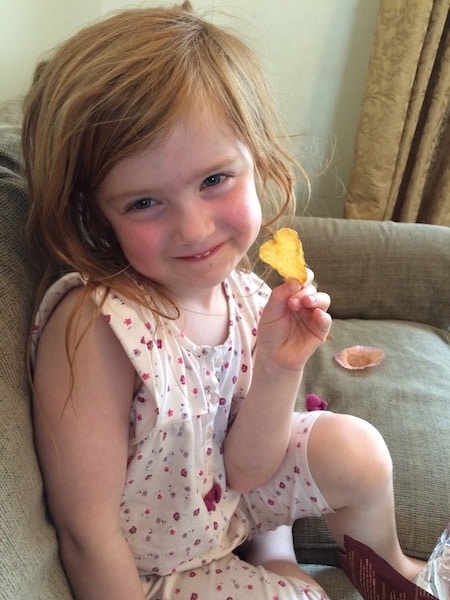 So while these are no doubt challenging and concerning times – why not give yourselves permission to stop and breath and take in whats within your grasp and hold it tight. Do what you can and not what you think everyone else is doing – everyone has their own struggles even if they don't publicise them. Don't exhaust yourselves worrying about that which we have little or no control over – instead surrender to the universe and look for the beauty and love in the little things.
I notice today on our morning walk with Sonny that some neighbours still have their Christmas wreaths on the door – and it gave us an idea. This Valentine's Day why not hang a Love Heart on your front door if you have one – or make one out of an old wire coat hanger you can bend into a heart shape and decorate with some strips of fabric or ribbon or wool or even a chain of lights. If you have kids get them to help. Then post a photo on instagram with the #foundlovehearts – or send them to us @foundlovehearts and we'll post them to our followers. As we approach Valentine's Day – remember that love isn't just about romantic love or big romantic gestures – its about being open to love and having love in your heart, your household and not being afraid to show it to the world …. even if our world has gotten very small.
Article Written by Tonyia Dowling
Image Credits: @foundlovehearts – @sheiladecourcy – saniapell.com – happyhooligans.ca
"Deep human connection is … the purpose and the result of a meaningful life – and it will inspire the most amazing acts of love, generosity, and humanity"

– Melinda Gates
---
Greenhouse Culture are delighted to have fellow green thinker Tonyia Dowling contribute to our blog this month. Tonyia is our first contributor, and what a beautiful beginning. A heart warming start.

It's in the little things. Tonyia reminds us to cherish what we do have – to appreciate the simple gifts, and value the beauty we happen upon each day. Most importantly, she reminds us that true love is sharing love with others. We also love her call to action – now we're finding love hearts where ever we go…

Don't forget to share the love and post your own found Love hearts @foundlovehearts
#foundlovehearts

Our sincere thanks Tonyia!
Happy Valentines xx