METAMORPHOSIS : About Us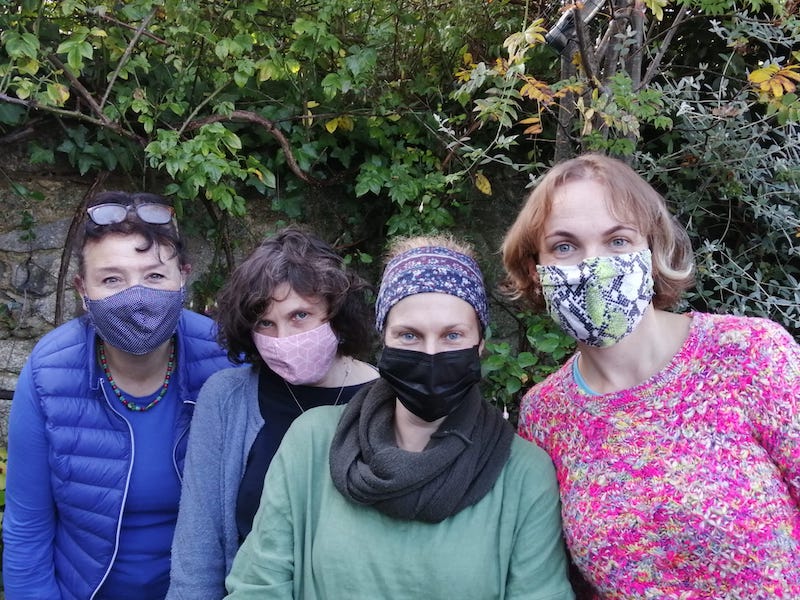 Metamorphosis: …pathless land… is a year and a half long collaboration
between Eleanor Dawson, Ashleigh Downey, Sylvia Hill, & Justyna Kosmulska.
Two musicians, a visual artist, and an ecological artist with a socially engaged practice.
---
Eleanor Dawson
I am a musician and a yoga teacher. I was trained as a classical flute player and spent many years playing early and contemporary chamber music. I also commissioned works from composers, often with an electroacoustic element.

Over the past 20 years, my work in yoga has taught me to listen more deeply, to trust my intuition and respond to the moment. Through yoga I have been able to find my own musical voice.

I'm fascinated by the nuts and bolts of music – time, pulse, pitch and instrumental colour. My work with sound now focuses on live improvisation and creating soundscapes for installations or other settings, often working in collaboration with artists from other disciplines.
www.rasayogasound.com
---
Ashleigh Downey
I am an ecological artist, with a passion for nature and all things natural. My work explores interconnections between humans and our natural environment. Formally trained as a textile designer, Central St. Martins, London (1995-98), I have a keen interest in pattern, repetition, and natural processes.

I have a masters in Social Practice and the Creative Environment from LIT (2018), and more recent post-grad in Design Thinking for Sustainability from UCD Innovation Acadamy (2020). Through my arts practice I invite conversations about human+nature relationships. I am interested in whole system development and believe in creating an alternative space for dialogue, knowledge sharing, and peer-to-peer learning.
I am a member of the education panel at Dublin City Gallery, The Hugh Lane, and the National Gallery of Ireland. Former assistant curator to the Collection Department at The Irish Museum of Modern Art (2006-08); Exhibited internationally with work in the permanent collection at Richard F. Brush Gallery, Canton, NY; Craft Council of Newfoundland & Labrador, Canada.

Founder of the Greenhouse Culture project.
www.greenhouseculture.ie, www.ashleighdowney.com
---
Sylvia Hill
I am a mixed media artist who works mainly in paint and print. My themes often revolve around memories, dreams and the unconscious. I have always loved nature and often use it as a vehicle to explore my themes, Technically my paintings explore colour and spontaneity.
I started my art career at the Grennan Mill Craft School in Kilkenny in 1988 (1st Class Honours) and then studied Fine Art at DLCAD from 1989-1992. I continued to study at night in NCAD, UCD and at Blackchurch Print Studio. In 2016, I completed a Level 6 Textiles course in CIFE in Dundrum – Distinction. I was recently selected for the RHA Dublin school where I have completed two modules in drawing and painting.
*In March 2021, I was delighted to be chosen as Artist of the week by Maurice Ward Art Handlers.
I have exhibited in many selected shows nationwide including Eigse Carlow, Mermaid Greenstar, Ennistymon Courthouse and Iontas Sligo. I regularly exhibit with selected Artnetdlr shows.
I am a professional member of VAI, Dlr ArtNet, Signal Arts Bray, and Wicklow Connect.
I have art work in private collections in Ireland, France, the UK and the USA.
www.sylviahill.ie, @sylviahillartist
All Images are Copyright of Sylvia Hill 2021.
---
Justyna Kosmulska
Adventuress, Musicsmith, Wordmatcher. Multi-instrumentalist, and singer who takes inspiration from both classical training and traditional sessions. Performs regularly at The Polish House (Dublin). Joins Polish and Irish musical heritage by writing her own songs and poems. In Ireland since 2007.
---