METAMORPHOSIS : Research Phase #1






Metamorphosis (…pathless land…) was a new collaboration between four strangers; two musicians, a visual artist, and an ecological artist with a socially engaged practice.
It started in 2020 just as Covid hit and we were thrust into a state of lockdown. Our only way to get to know each other and share creative ideas was via WhatsApp and Zoom.
Below is the fruits of our conversations.
---
WhatsApp became one of our main communication tools.
11 July 2020
Eleanor: Hi all, I've just created this group so we can message each other.
30 July 2020
Sylvia: Might get the BOOK at library Best to all- Syl https://amp.theguardian.com/books/2015/jul/18/franz-kafka-metamorphosis-100-thoughts-100-years
Eleanor: Great idea!!! Will download onto kindle to take on holiday!

17 August 2020
Sylvia: Are we still meeting up in Knockri? Powerscourt cafe is a Roomy place to meet if wet.
Eleanor: Was thinking the same thing myself
Justyna: I'm in for Powerscourt!!!
Can't believe, how fast this month flew!!!
Eleanor: Yes I feel as if I need another August!
Ashleigh: Hello ladies. Looking forward to seeing you all tomorrow. Sounds good to me…
Justyna: I haven't been in Powerscourt. Love to see new places.
Eleanor: Perfect!! See you all tomorrow
Justyna: Metamorphosis – PLAYLIST of 14 songs discovered
Justyna: Thank you Sylvia!!!
Ashleigh: Thank you for sharing. Love the Cells.
Eleanor: Wonderful, Sylvia!!! And thanks, Justyna. Was really good to meet up. Amazing what you can do in an hour! I love the crinoline idea … but no pressure if it doesn't feel right…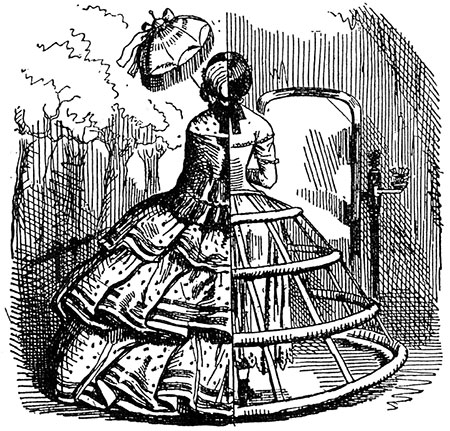 The Victorian Crinoline and its Caricaturists
Few single garments are so well-documented as the crinoline; yet few have been so misrepresented by posterity. To some the crinoline is the symbol of a kind of passive femininity now vanished… to the Victorians themselves the crinoline had little of submissiveness, seeming rather a monstrous plot to increase woman's stature and make man seem insignificant; in the words of one writer, 'we awake to look upon the excited iron age of England, and to be reminded of its existence even in the dresses of England's fairest daughters'.
Christina Walkley | Published in History Today Volume 25 Issue 10 October 1975
9 September 2020
Justyna: offered a passage from the book Metamorphoses, by Ovid, as starting point for our group meeting.
Eleanor: That's such a beautiful image, Justyna. Lovely to see you all. Loads of ideas … looking forward to the next time and the metamorphosis in between times …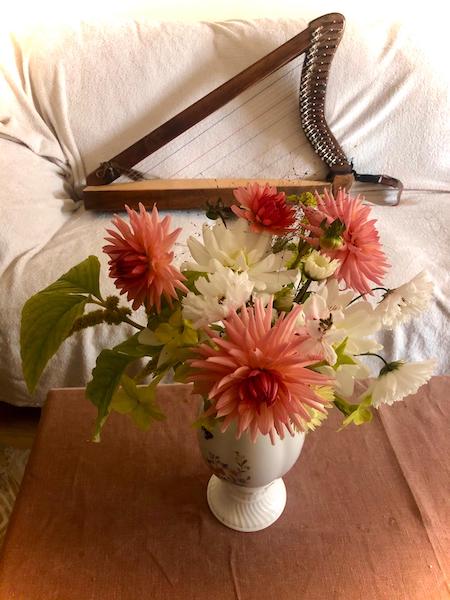 ---
12 September 2020
Sylvia: Girls -I'd say it will be a zoom not my home-as numbers are going wild in Dublin. Belmont near bray is another outdoor venue pending weather but they have tents.
Eleanor: I'll probably not be able to leave the county … and strongly advised not to already … Zoom is fine, and hope we can rediscover our infectious humour remotely …
I was going to send a video of me playing some of those instruments, just to give an idea of the palette of sounds … would that be an idea?
Sylvia: I'm in west cork feel much safer here yes we won't lose our humour have to keep that
Eleanor: …I'm remembering our wonderful mutual laughter and it really sustains me!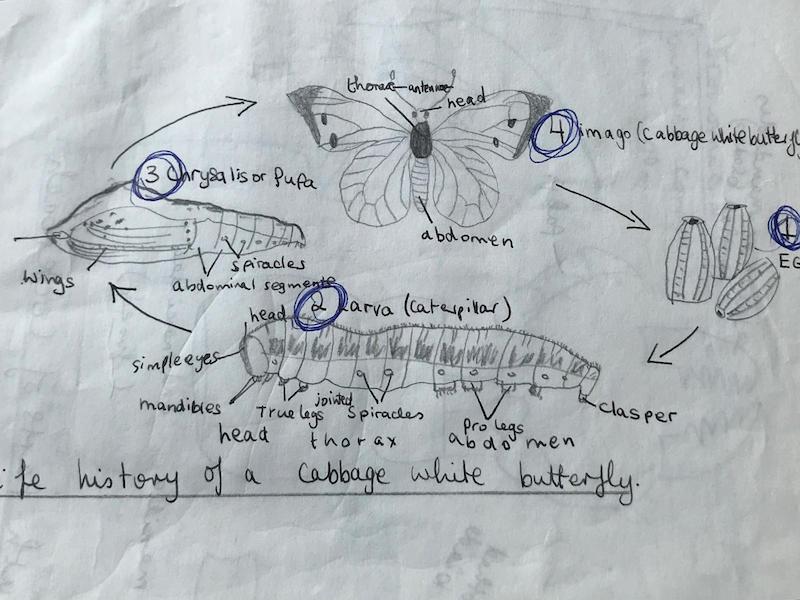 Justyna: Wow Ladies!!! I really enjoy the artwork Sylvia!!! And Eleanor the videos are wonderful. Yes the shruti box is definitely a good direction after the harp. And the gong is absolutely the finale!
What I envision would be a performance/animation/video with sounds and pictures and some words spoken offscreen..
Sylvia: Yea -I see a performance with cut -to animation -sound I've no experience though with Film except home stuff
Eleanor: Performance is good … but might have to be recorded … (we can't be there live all day every day for 2 weeks .. or can we?) with maybe some costume as part of the exhibition??
Justyna: That's what I'm thinking!
Sylvia: We see how the ol CO goes maybe we will get it done next year – meantime we keep planning we'll know when to start final – but to have a film would be gorgeous to look back on we could have objects along side it in cabinets
Eleanor: I love the cabinets idea …
Ashleigh: Love the idea of a video / sound piece. & a cabinet of curiosity. Definitely something to think about, once we have a better sense of this pandemic.
I have this little treasure of a book at home… though not the cabinet unfortunately. Just through that in for inspiration 🌟
'I like thinking of the writer as a kind of curator; the collection as curiosity cabinet – in a non-demeaning, non-objectifying sense – but an array, a set of offerings.'

– Leslie Jamison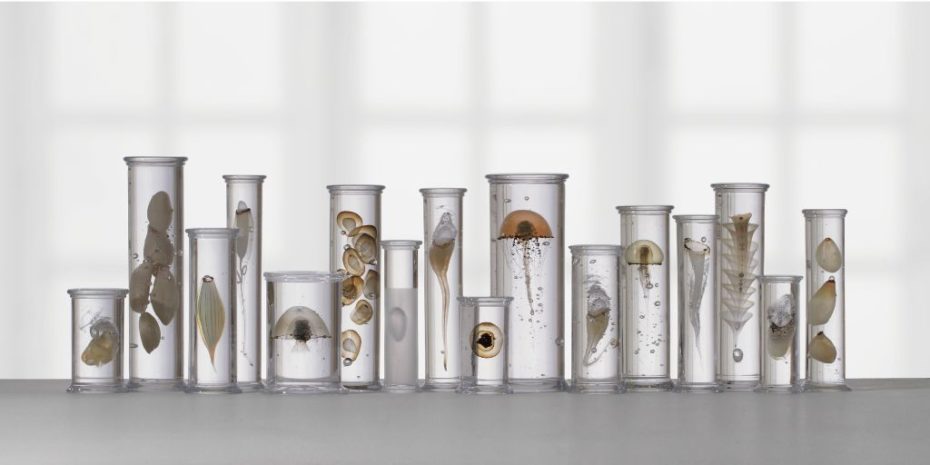 Ashleigh: when I think of curiosities, the Danish glass artist Steffen Dam comes to mind. He creates a veritable Wunderkrammer, dedicated to the creation of a new genus of sea creatures, all made of glass.
13 October 2020
Justyna: This one I took on Sunday… Might also fit the theme. Do you see the change? Reverse side?
Eleanor: Beautiful! Barbed wire?
Ashleigh: Stunning. Beautiful images ladies!
Love the reflections and the sound of trickling water 💦
Justyna: Yes. So these are 2 separate pics of the very same place. Thank you Ashleigh!
Ashleigh: I Love the contrast between barbed wire and the gentleness of the landscape view – previous image. Can't seem to upload photos myself at the mo but also took image of water/reflections and trees 😃
14 October 2020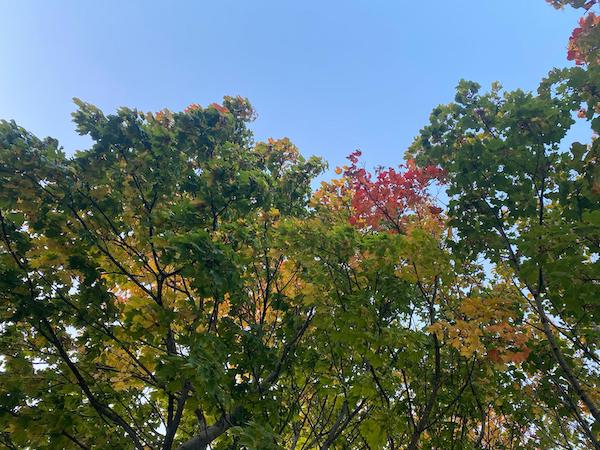 Eleanor: It's wild and beautiful… definitely!
Beautiful, Justyna. I especially love the light in the first one.
There was an amazing cloud formation this evening – like a mountain range with an intense silver lining – when I was out by the sea, but I didn't have my phone…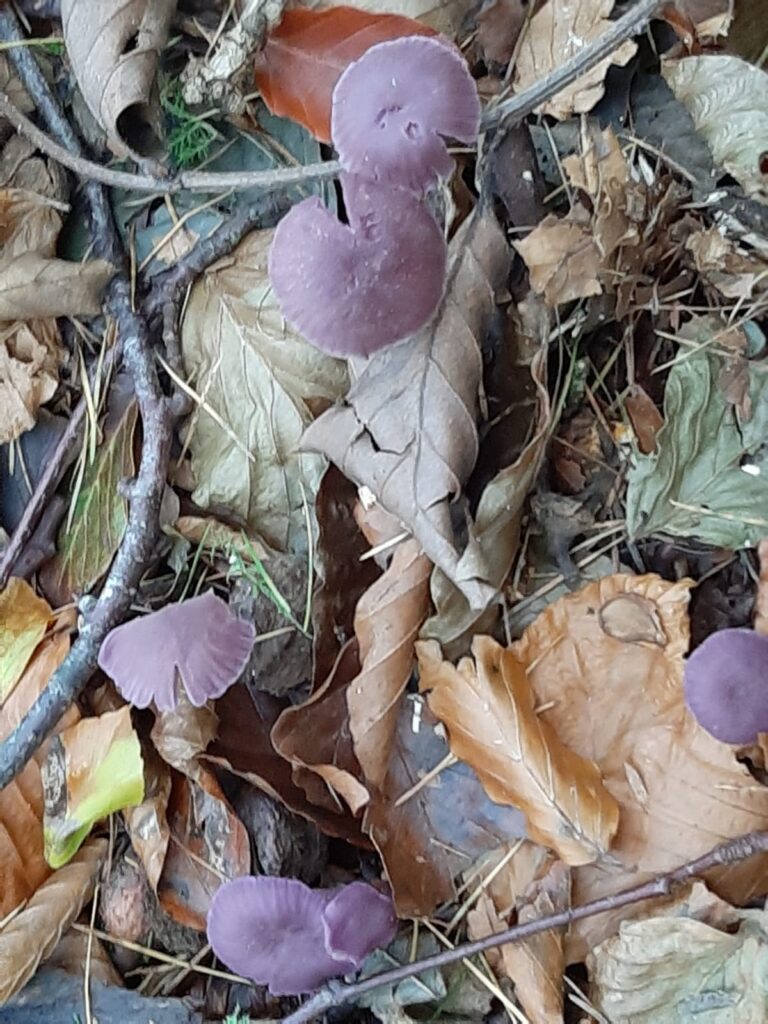 17 October 2020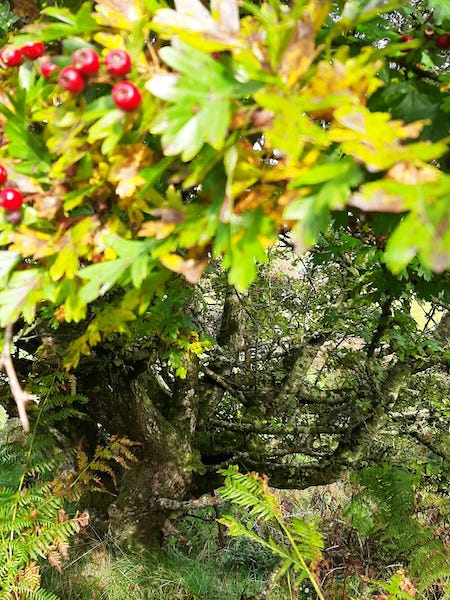 Eleanor: These sculptures are beautiful! Wonderful! I love the Devil's Glen! One day we could all go together … I have sounds coming for cell division, cracking open of eggs, emergence etc … still in my head. Half term the week after next could be the time to let them out … hope you're all well xxxx
---
Sylvia: Some of my new ideas Honeycomb. A bit ugly but …..
More biological maybe
Still in love with Frankenstein and Mary Shelley
Eleanor: Wow!!!! These are fabulous… the second one almost like a chrysalis. I like the biological – gets right to the crux of things ..
You can't go wrong!!! Mary Shelley was a genius!
Ashleigh: Indeed a fantastic creation – Frankenstein!
Sylvia: Yes I greatly admire her and her mum was such a woman ! really one of the first women's libbers
Eleanor: Mary Wollstonecraft??
Sylvia: That's it
---
The Insect Play
is a satirical play written by the
Brothers Čapek. Performed in the Gaiety, 1943. "A revue-like fable/drama set in the woods of an unspecified place and time."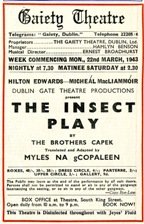 https://www.encyclopedia.com/arts/educational-magazines/insect-play
---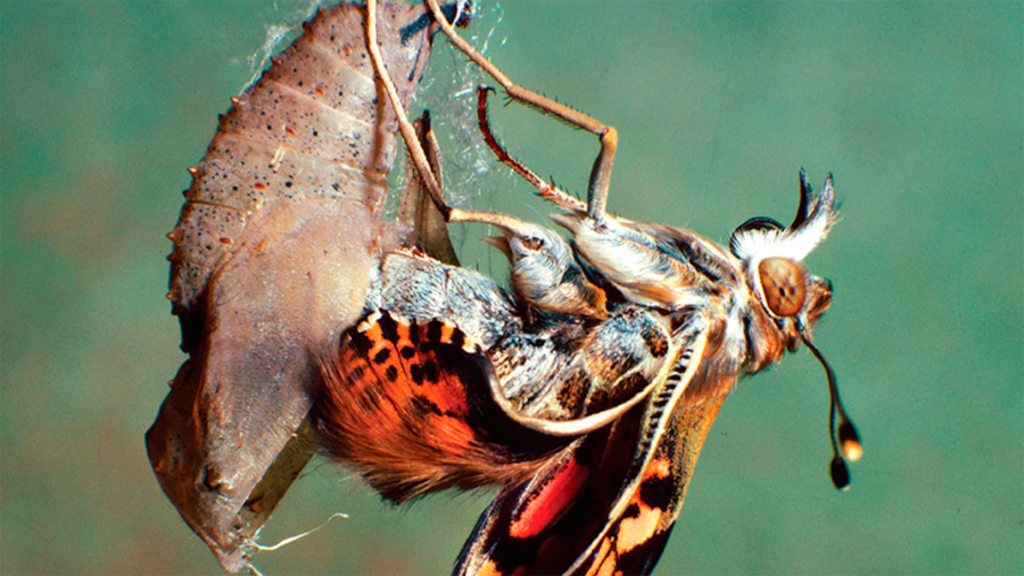 ---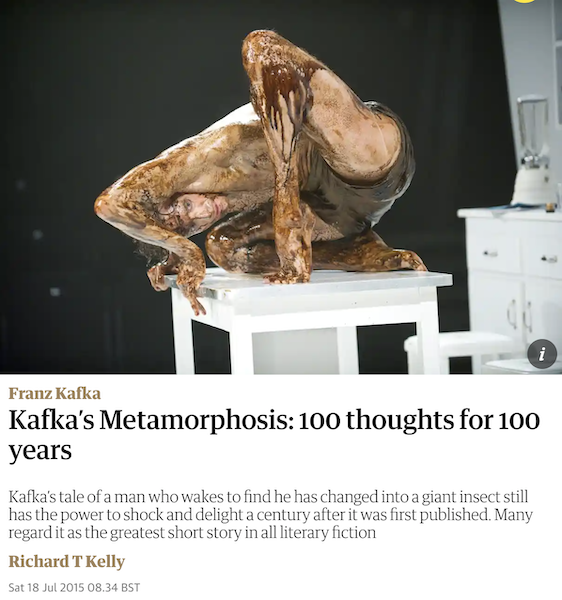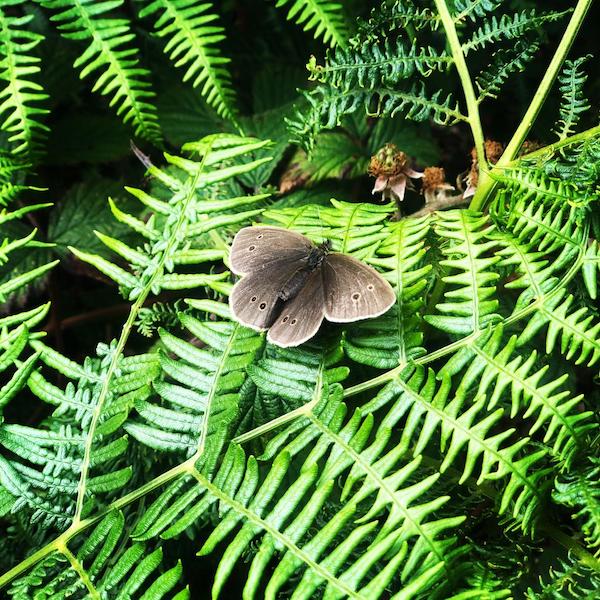 Sylvia: Music and visuals in this book love the manuscript paper with little sketches
Eleanor: I'm interested in graphic scores – different ways of finding a visual representation for sounds and music … so many possibilities!
Eleanor: Morning thoughts … thinking of Justyna's theme as a spiralling yellow brick road as a journey of metamorphosis of the wild woman … NOT as a 1970s-style moaning, man-beating protest but something relevant, stylish, positive and contemporary that encompasses environmental issues and the multifaceted nature of women and our roles. I can envisage the appearance of the scary, animalistic side (hairiness, warts and all) as well as something strong, pure and clear – and dancing! Could also involve the cell, and cell division … video, soundtrack … whatever medium each of us wants to explore …
Not trying to set anything in stone here – quite the opposite – but just visualising how many of the aspects that came up the other day could take shape – and we could have a lot of fun – a light touch. I think humour is something we share! 🌟🌱🌸
Sylvia: Yes all great ideas. Will write them down and think on. I like the idea of doing a small sketch or something everyday towards it and then adding and subtracting from this to make a whole piece so I think I might do that then I can share bits of what comes I found this good at the beginning of pandemic to get working before I began my own work- I'd do work for the elements exhibition and I'd be in the zone -scales!!!😀 starter exercises before working on my stuff. We could do this up to Xmas and then look at what we have —free play till Xmas.
Just thoughts
Eleanor: Lovely thoughts, Sylvia!!
Ashleigh: Yes lovely ideas – yay for free play…
Sylvia: How Kool is that. Fab wilderness
Justyna: From the Cooley Mountains! Imagine, I was there all alone…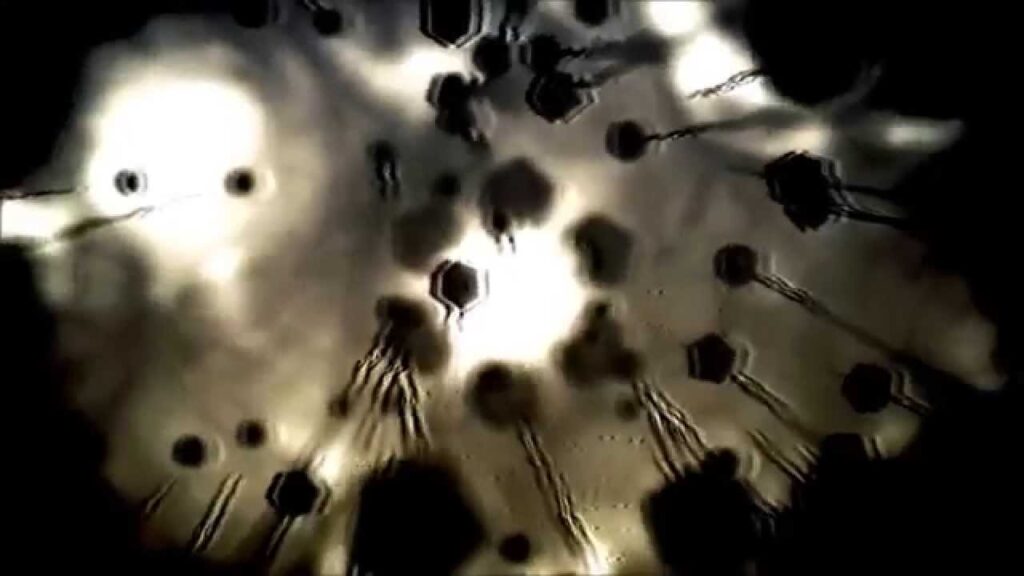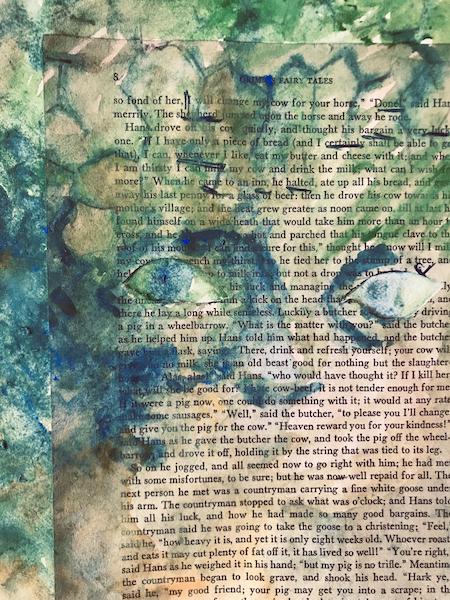 ---
Some improvisations on Justyna's theme… Not straying too far just yet.
---
Eleanor: Shall we do our meeting on Zoom on Wednesday?
Ashleigh: Oh these sound improves' are delightful. Love the playful jaunty air…
Sylvia: I like third one – fourth poignant at end.
Well done working away – I didn't do any today but will think on- now I have this – still seeing an egg large about 8 inches long by 3/4 wide transparent!
Yes 2:30 on Wednesday for zoom. Will I need connection details for zoom?
Eleanor: Wow!!! Egg sounds good … my sounds are very sketchy – and I can hear more responses to the theme, too … good to start improvising and then I can refine when we've had a chat.
Sylvia: Yes too early to get set – all very interesting indeed…
Justyna: I love all your recordings Eleanor!!!
Egg 🥚 and all I can think about is the lyrics from Björk: "… and they say back then our universe/ was a coal black egg/ until the god inside/ has hatched and from the shattered shell/ he made the world we know…"
Back to the recordings (I keep listening to them, they're so beautiful and inspiring) I think the last one is the most "wandering" and is like a bridge, the chrysalis or pupa phase, where the magic happens and surprising directions show up
Eleanor: Thanks, Justyna! – yes, the last one was definitely the moment when there's a shift.
Will mull over eggs and Björk!

---
Eleanor: Hi – am I right in thinking we have a meeting at 2.30 tomorrow (Weds)? I can send a Zoom link if you like …
Ashleigh, I hope you are OK. I know you must be recovering … we can postpone if we need to … sending love to you all 🌺🌟

Sylvia: Yes it's tomorrow at 2:30
Send a link please as I'm technically challenged 😂
Ashleigh I hope you are feeling better. See you all online tomorrow xxx
Ashleigh: Hello ladies… it looks like you are all having such a wonderful explorative journey together. Positively overwhelming. Feeling a little out of the loop (a resting Limb perhaps) – but very much looking forward to catching up with you all today 🤗
For now a random contribution: my metamorphic view at the moment…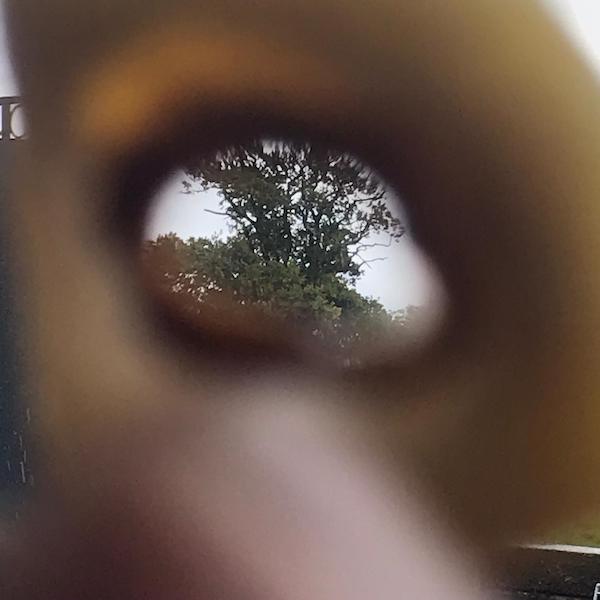 7 October 2020
Eleanor: Beautiful!!!! So good to hear from you, too 🌟
Justyna: Hi I can't find the link to zoom
Sylvia: Lovely image Ashleigh
---
13 October 2020
Sylvia: Gals- Zoom for everyone on metamorphosis tonight at 7:30
Eleanor: I'll be there! … Took some pics and videos at the weekend. Will send later 🍁
Sylvia: Great- I tried to capture the wind sounds through a medal gate but didn't work on recording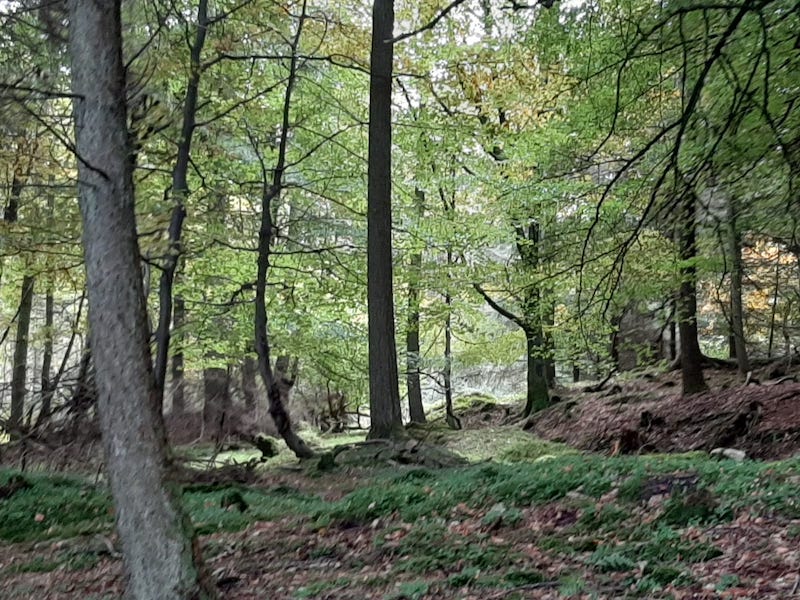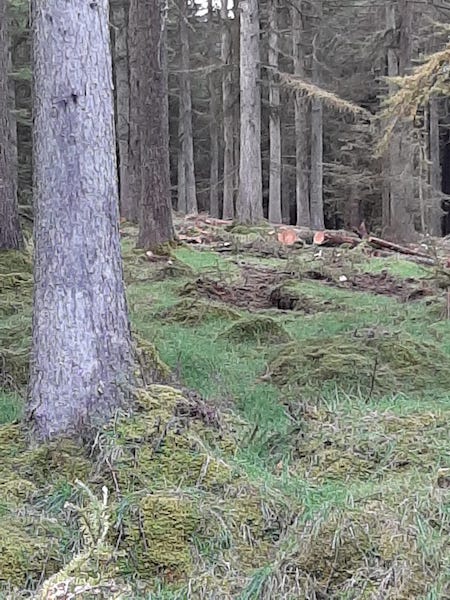 Ashleigh: Fantastic images! Where is this beautiful place?
Eleanor: It's Cruagh Wood, near Glencullen … they're felling some of the evergreen trees to make space for more deciduous native species to encourage biodiversity.
Would love to see your images, Ashleigh!

Justyna: Eleanor, your photos are inspiring! Look at this metamorphosis:
Eleanor: Wow!!!!! That's a psychedelic metamorphosis!!!
I think we're doing really well! We've got a clear idea and things are starting to flow!
Justyna: Thing is, I did very similar photo last year… and I also filmed the trickling water in Cruagh Woods!!! We think pretty much alike 🙂
Eleanor: Wow! That's wonderful! 🙂
Sylvia: Magic mushrooms beautiful
Ashleigh: That's amazing – great connections- these I took last Sunday, of a wild apple tree 😃
So similar to yours Sylvia.
Eleanor: Amazing – you two are in sync! Stunning light ..
Justyna: Amazing indeed… looks like it's the same tree! 😉
Ashleigh: Was yours an apple tree? Now that would be pure magic 😉 For some reason I'm not able to send a water video I did – a wee water reflection – shall keep trying 🤔
Sylvia: No not apple _ mix of trees lime and maybe ash I will look near my home amazing they the same. We are becoming One- 😂 haha
22 October 2020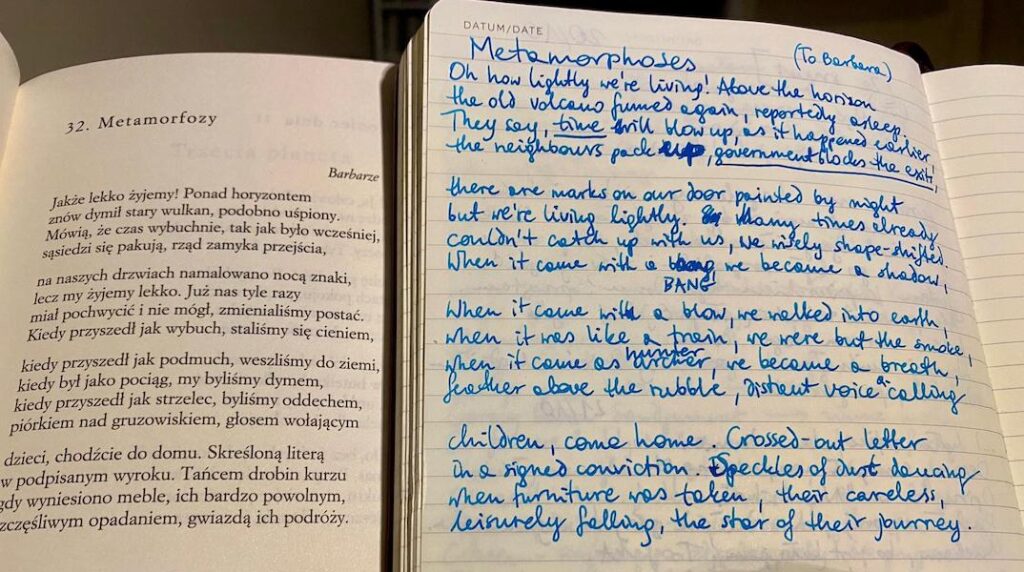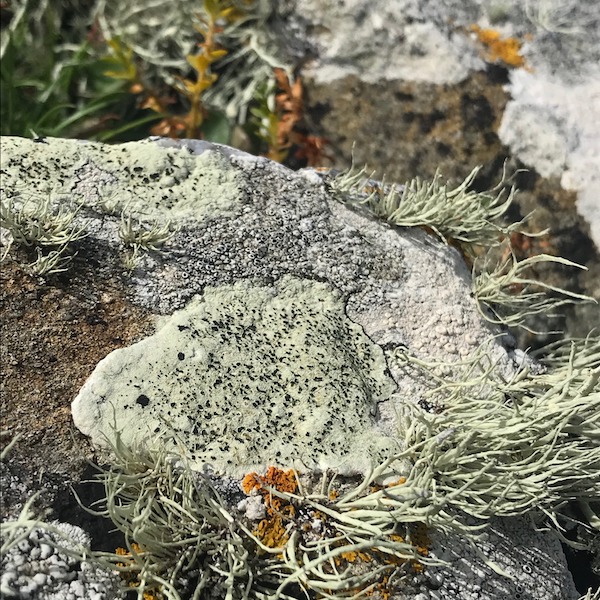 Eleanor: So beautiful, Ashleigh! I love the way you've captured the pulsating sunlight and the water.
And thanks for metamorphosis poem, Justyna. 🙂really looking forward to seeing you all again…
26 October 2020
Eleanor: Hi all – I have 10.30 tomorrow in my diary for a meeting … is that ok with you? I can send a Zoom invitation… have been snowed under with yoga things lately so sounds still only in my head – but have ordered some speakers to listen to my sounds (kind of mini studio) which we could also use if we are in a smallish gallery space. Hoping to produce something more definite this week! Hope you are all well. 🌱
Justyna: Thanks for a reminder!!! I've listened deeply to your CD yesterday…
… the Hinterland one? Thanks!!
Justyna: Yes. You're a wonderful composer
Ashleigh: I agree – stunning!
Sylvia: Yes- very imaginative work – see ye all tomorrow 😀
Eleanor: Thanks so much!!! You don't know how much that means… 🙂
26 October 2020 – Zoom meeting
Sylvia: Can't seem to join meeting?
Ashleigh: Me too
Eleanor: Oh help!!!! Time ran away with me! Coming now … xx Something weird has happened. Keeps shutting down the meeting … can anyone else send a new invitation?
Eleanor: Hi all – we're thinking of the week beginning 14th Nov for our next meeting… Great to meet up again – I love our group! 🙂🌸
---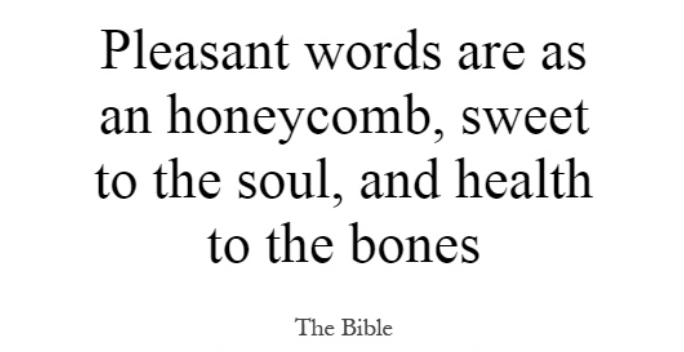 ---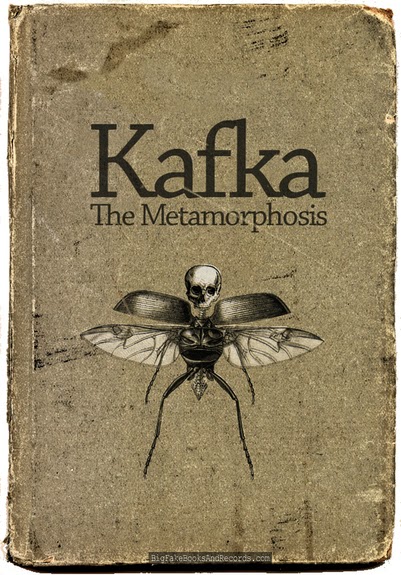 ---
WORD ASSOCIATION
Eleanor: Seed life-force breath spirals gestation transposition cocoon skirts egg cells filters layers pod Venus emergence layers murky space language renaissance craft feminine energy simplicity seed golden thread deconstructing shifting reconfiguring gathering
Sylvia: Vortex spiral thread egg seed onion pattern deconstruction to /construction journey – Trek

Chant masks evolution movement /morphing – music strings. Female current situation transformation / Transposing Anomaly mutate gestation Exhalation stages contained / Free Process

Other worldly mysterious
Mythology dreamy breath environment natural things biology cells life forces
---
2 November 2020
Sylvia: Just very basic and experimenting with technique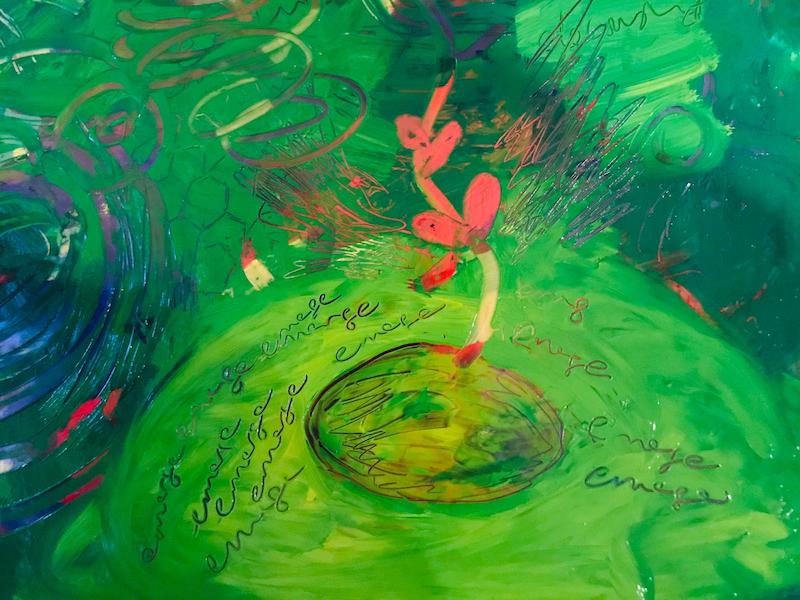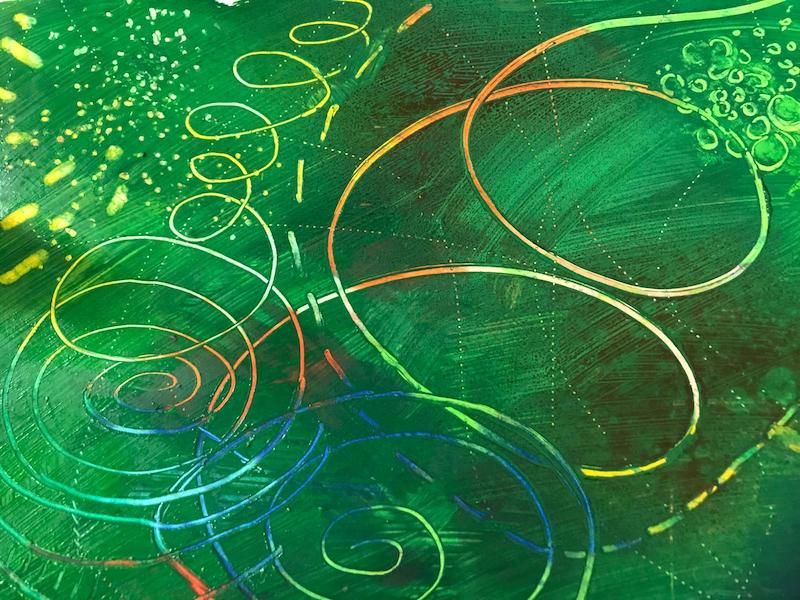 Eleanor: So vibrant!! The energy is fantastic. And the colours … I love them!! I think the energy is similar to the sounds I sent this morning – collaboration happening by itself!
Sylvia: Yes… I just find that you have allowed me to be way more experimental than I have in a long time and maybe we will all cobble together something Great from all the individual experiments
Eleanor: We will!!!! I love your experimentings!!!
Sylvia: It's Good fun and a welcome break from my other work!! Thanks you too
Eleanor: Same here…
Ashleigh: Beautiful – I feel like dancing…
Sylvia: Look at this… 👀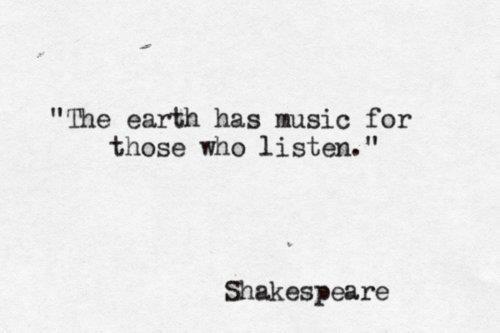 8 November 2020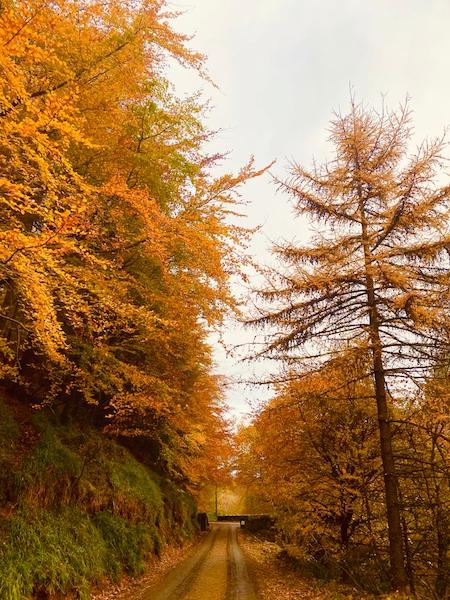 Ashleigh: The colour in this photo in particularly stunning… and the textures 💕
---
Justyna: This is the song that inspires me. We could do something similar but with word METAMORPHOSIS instead of Exposure, and with more acoustic instruments. The female vocals here is Toyah Wilcox. I've been listening to this song now for 20 years…
---
29 October 2020
Eleanor: I recorded some sound fragments today … just v small and rough … will send soon, once I put them onto the computer. 🌟🤸🏻‍♀️🌺
Sylvia: Terrific E—Lots there -so I will write them out and think on them or draw out things that suggest word – all do same ?-if you so wish see if we can synchronise?
Love all your sound stuff E -you should be doing music n sound for films very atmospheric
Eleanor: Some of the sounds I recorded today are for some of those words … but there are others, like 'bubbles' which I hadn't written down but which seemed appropriate too.
Thanks!!! I always wanted to write music for films… and theatre… 🙂
Sylvia: Bits of drawings coming now but I haven't coloured them in yet
Eleanor: 🌟🙂great!!! Night all zzzz
Ashleigh: Thank you ladies – lovely suggestion! I have been collecting word too, so love this idea! …dreaming words…zzz- abc -zzzz
---
4 November 2020
Ashleigh: Love love love the atmosphere in these photos Eleanor!
Unfortunately not my beautiful drawing, but thought I would share anyway. Love the concept, "web of Interbeing"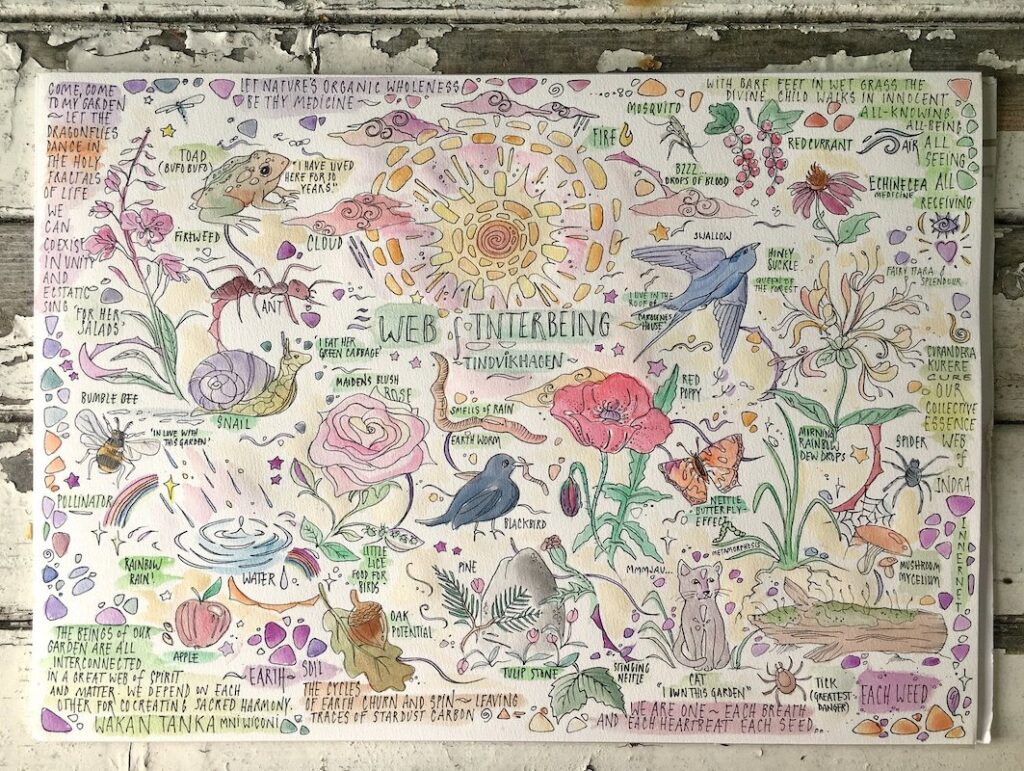 Eleanor: It's beautiful, Ashleigh!!
Ashleigh: Isn't it stunning…. Been thing of this web of inter-being every since I found it
Eleanor: Web of inter-being is really where it's at!!!
Justyna: This is magnificent!!! And, it has the word "Metamorphosis" just above the cat!
Ashleigh: Ahhhhh 🐈 well spotted 😊
---
Eleanor: Wonderful cycle… thanks, Ashleigh!
Ashleigh: Eleanor these are spectacular!!! Love love love the atmosphere.
Sylvia: Love prickles with cobweb and Misty views.
Ashleigh: It was amazing up Killiney Hill this morning … the two spots of light growing stronger by the second… and wonderful mist!!!
Ashleigh: Love the visual balance here – asymmetrical-symmetry

Justyna: Dear Ladies, this is the poem I've been working on… hope it inspires you 🤓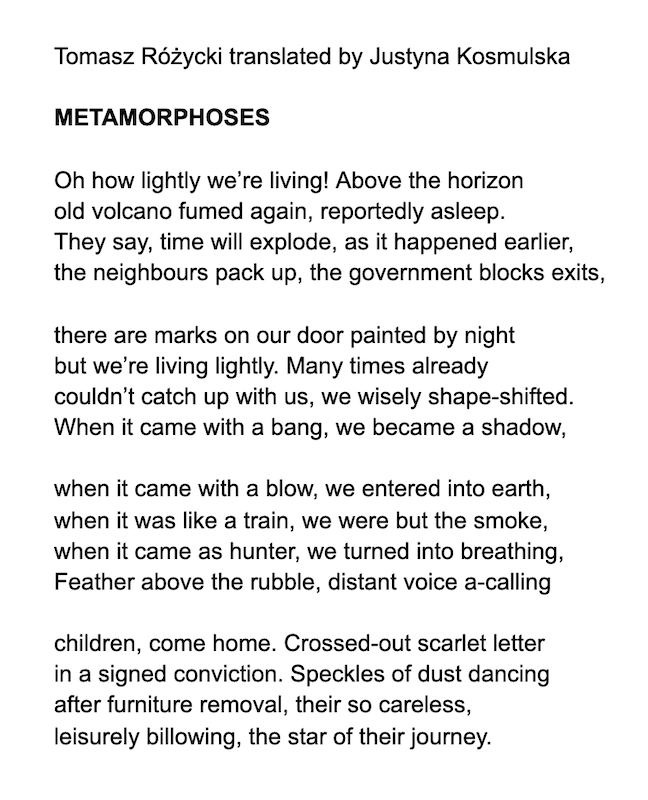 Eleanor: Reading 'If women rose rooted' by Sharon Blackie … it's amazing – very resonant with some of what we're exploring… really inspiring!
24 November 2020 – ArtNet Meeting
Connecting with the other ArtNet collaborative groups, gaining insight into how each group is approaching their collaboration and how they are developing their work together for the 2021 Metamorphosis exhibition.
Over the last number of months we have been primarily focusing on process. Due to pandemic we have had to find an alternative way of getting to know each other – how we work both individually, and together as a group.

We use WhatsApp to exchange thoughts, ideas and share our explorations on the theme of Metamorphosis.

We also meet on Zoom every 3 weeks or so, to explore ideas and potential connections. Through conversation and exchange we decided to give ourselves permission to play and immerse ourselves in an exploration phases…. Allowing things to unfold.…

After Christmas we plan to move onto the 'making' phase – gathering together our explorations. We are excited to see how the work will metamorphosis…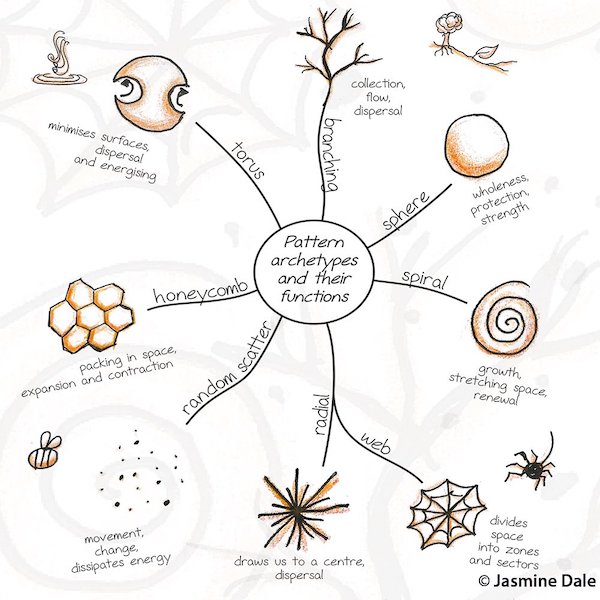 ---
---
Ashleigh: Winter is upon us… the only thing to do is put on that red dress, find yourselves a comfy chaise longue and good book. Voilà – Hibernation time! How to see you all come the new year… xx
Ashleigh: When I squint my eyes the tree look like a figure dancing with fire 🔥
Looks like you had a wonderful weekend 😊
Eleanor: It DOES look like a figure dancing with fire!! Beautiful pictures, Justyna!
Justyna and I are talking this morning … and making some sounds ! So we'll let you know how we get on.
---
---
19 November 2020 – Zoom Meeting
Justyna: Hi. I might not make our meeting as I'm still in the mountains, hope you like the poem
Sylvia: Yes – it feels very like what we are going through and also metamorphosis
Beautiful day.
Eleanor: It does … some beautiful images there …
Just come in when you get back if you're in time.
Just off for v quick walk before we start … 20 mins … see you soon xx 🙂✨

Eleanor: Ready when you are!! 🌱☀️🌳🌺🤸🏻‍♀️
Sylvia: I'm having trouble with internet but will try n create a hot spot
Ashleigh: Don't worry – Take your time
Sylvia: Impossible Eleanor we are having great trouble with internet very frustrating…
… At last Sylvia got connected. & Justyna tuned in for a little while at the beginning of the zoom call, before continuing her walk in the mountains.

Eleanor: Hi all!! Lovely to see you … … Website page looking amazing and massive thanks to Ashleigh! 🥰
🌱🌳🌺✨
Sylvia: I think we made a lot of progress today – but I have been worrying on and off that we won't have time to "do the actual work "
Eleanor: I know what you mean… but it partly depends on what the 'actual work' is in the end … … And some of the actual work is there … as sketches etc. The energy will shift in January when we reorient from play to construction… ?? !!
Ashleigh: I agree, I feel we are still in the experimentation stage. come January we can gather our collective explorations. from there I'm sure something wonderful will emerge – the work will metamorphosis 🌱✨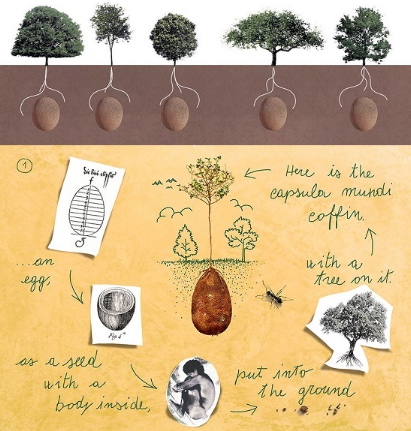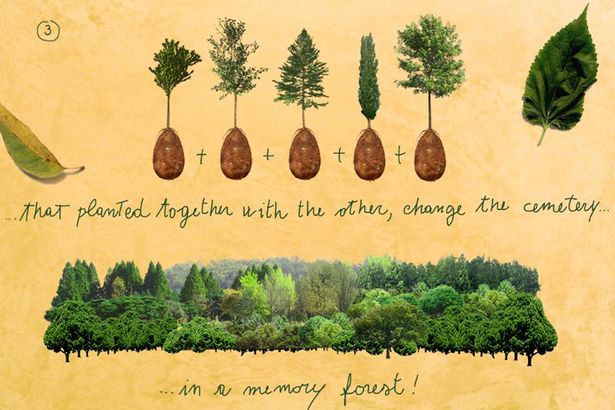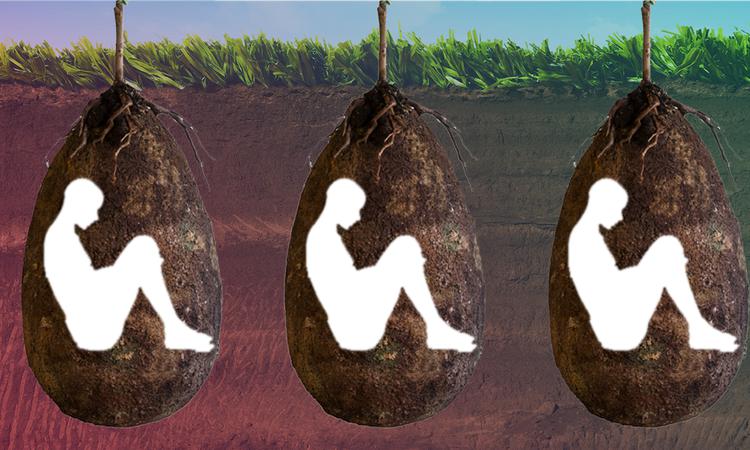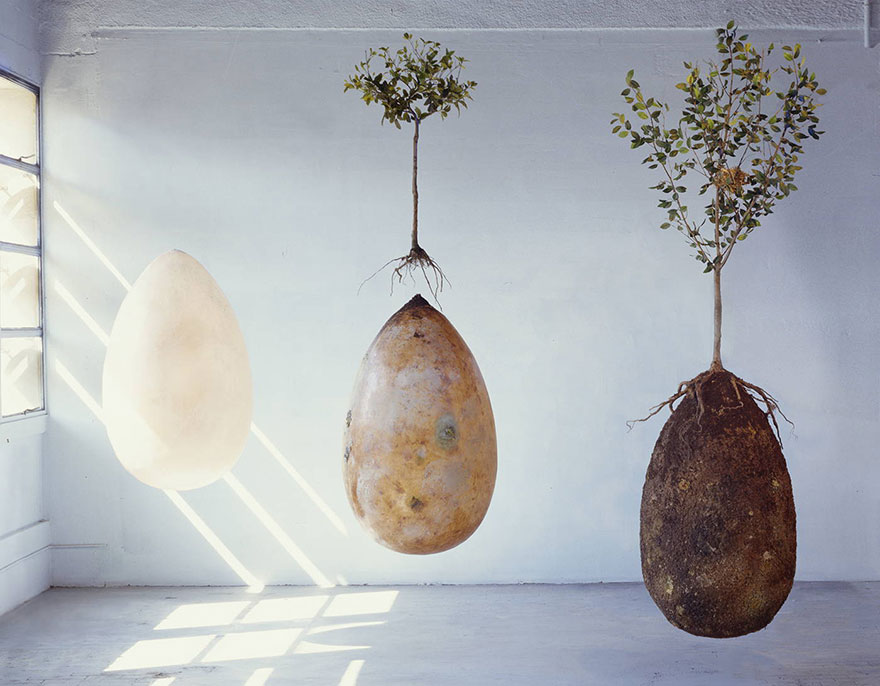 ---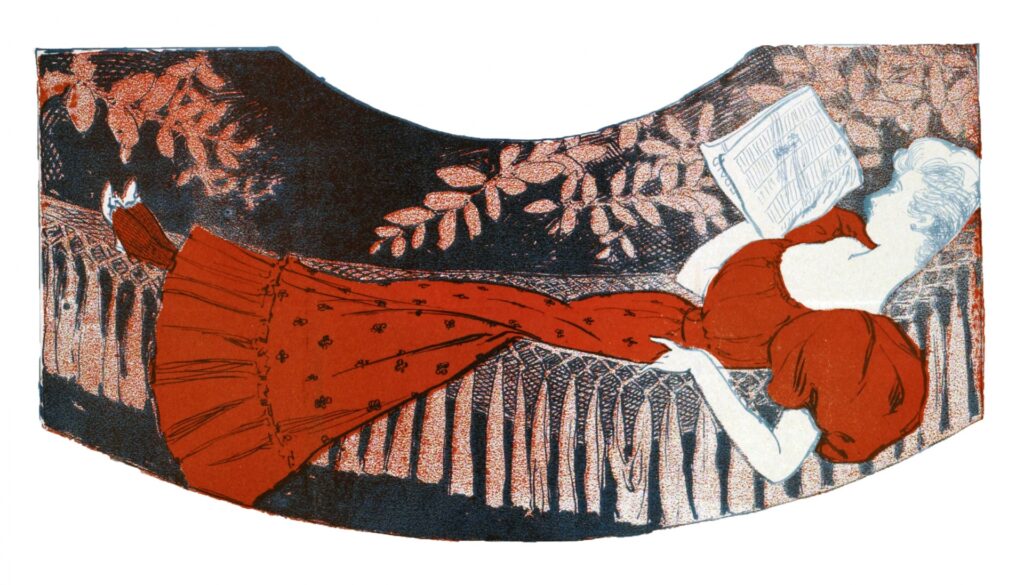 ---
2 December 2020
---
FURTHER MUSINGS
January 2021

---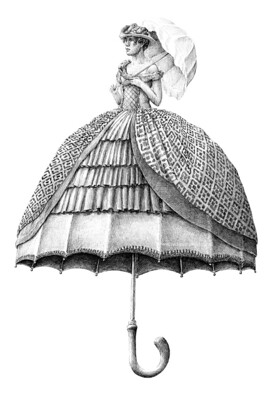 Ashleigh: I have just discovered this artist, Redmer Hoekstra. I find his drawings simply mesmerising, imaginative, and very metamorphic…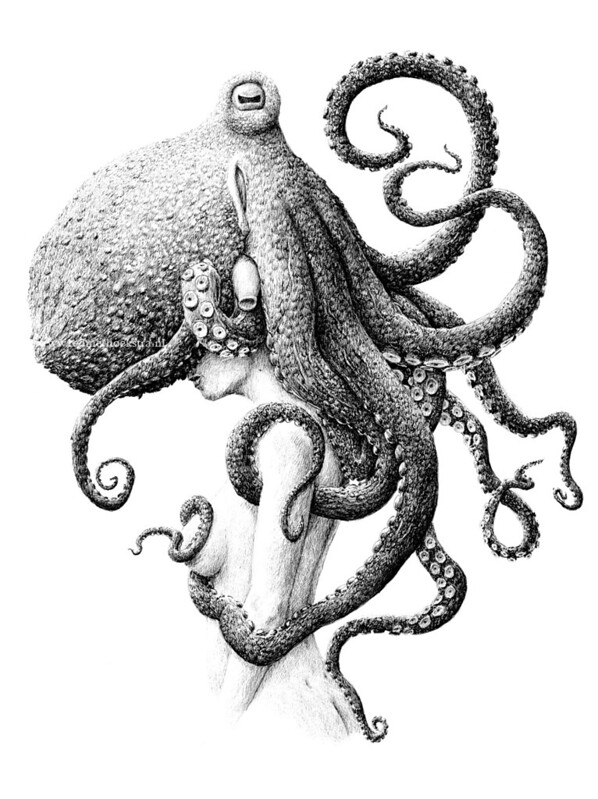 ---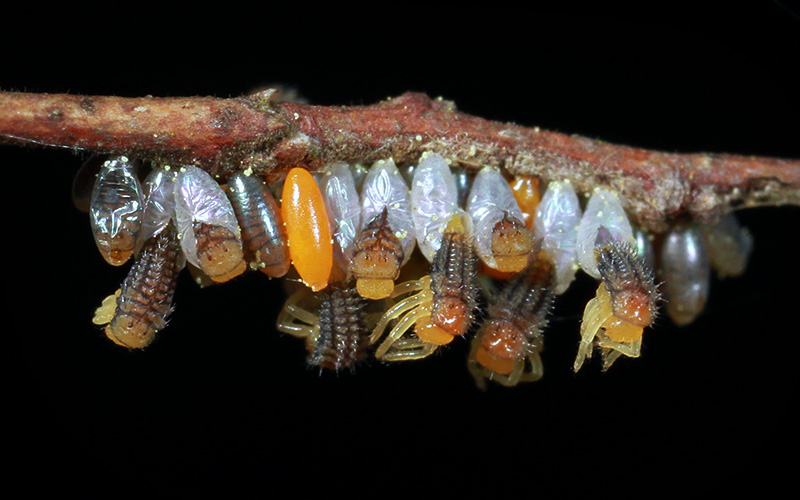 ---
The Hercules beetle is one of the largest flying insects in the world. Watch this beetle METAMORPHOSE
from larvae to a giant 7inches long.
---
'Metamorphosis is the most profound of all acts.'

– Catherynne M. Valente
---
11 February 2021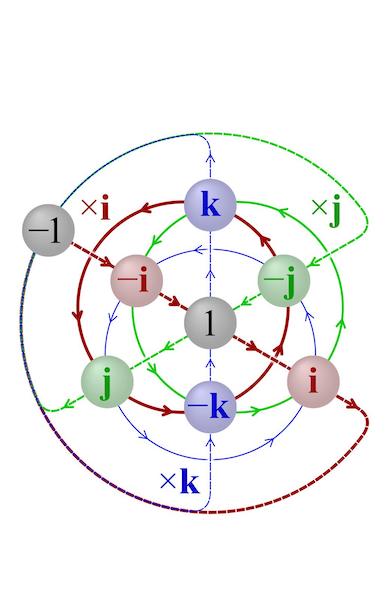 Ashleigh: Between the themes of lockdown and metamorphosis I don't know whether I'm coming or going 💃🏼🕺🏼
I have just spent the morning going back through all the posts since Christmas – such amazing work by you all. I have been busy trying to download them all so we can included them on our webpage – somehow? 🤪
Tomorrow I think I shall take a leaf out of Sylvia's book and create a meander in response to your sounds…. 🥳 🧡


This song is my new most favourite song 🧡🙌 I have been listening to it constantly since December…In between a few tears hear and there it has been breathing life into my spirit. Of course its environmentally focused 😉
I think you guys might like it xx

Justyna: Hi Ashleigh!!! The song is wonderful and I really like Aurora, I listened to her in Norwegian before she got so popular…
Sylvia: Lovely voice !
---
The fashionable history of social distancing
March 31, 2020
Ashleigh: Came across this video – think its fab!!
This video is based on an article by Einav Rabinovitch-Fox, professor of history at Case Western Reserve University.
https://theconversation.com/video-the-fashionable-history-of-social-distancing-135145
---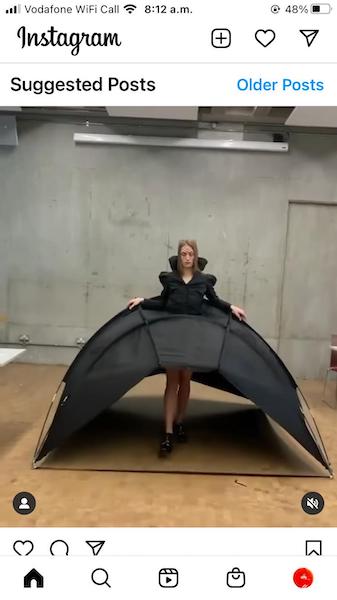 Sylvia: Here's a skirt I found online we could source. Hahahaha
---
Human life runs its course in the metamorphosis between receiving and giving.

– Johann Wolfgang von Goethe
---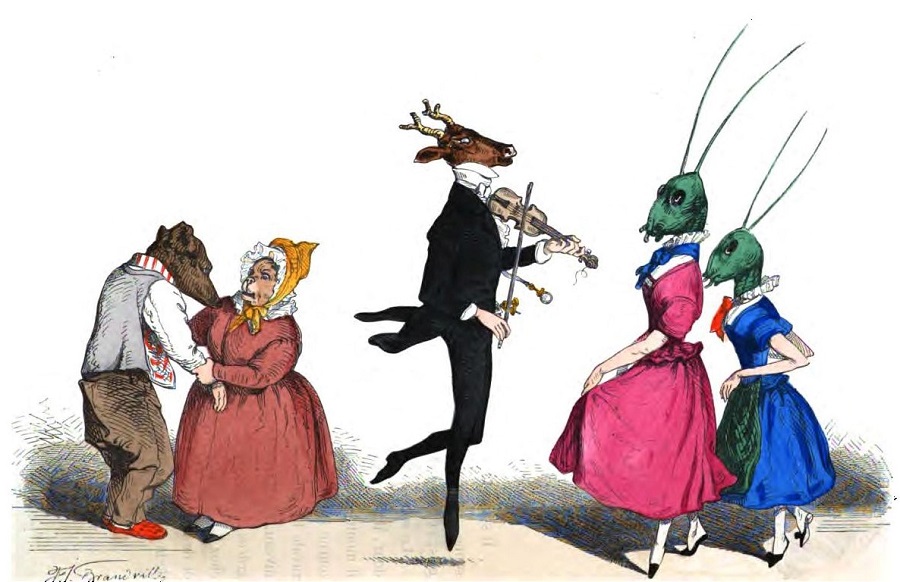 ---
An article on German-born naturalist and scientific illustrator Maria Sibylla Merian (1647-1717)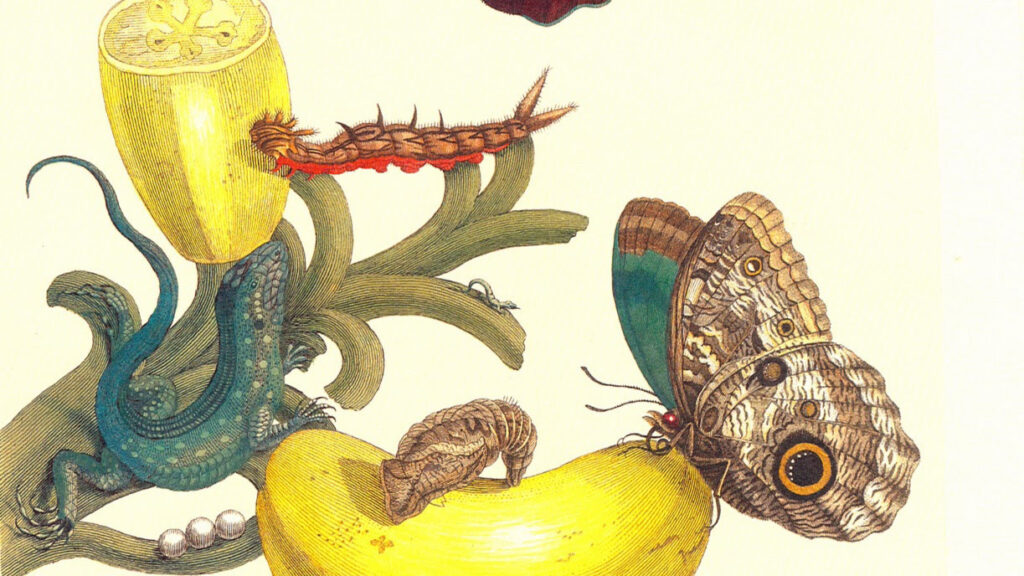 ---
Ashleigh: Another fascinating artist I have just discovered, Takato Yamamoto
(copyright for both images below belongs to: http://www.listal.com/takato-yamamoto)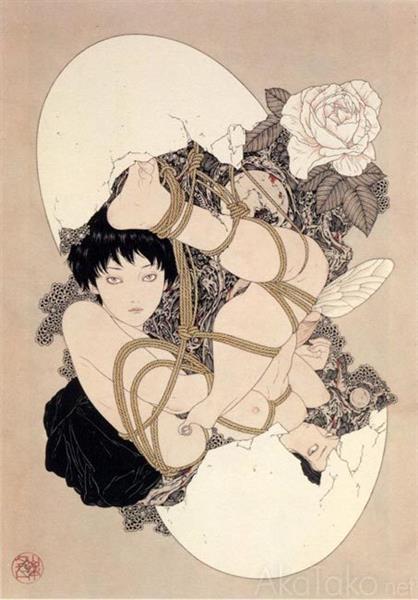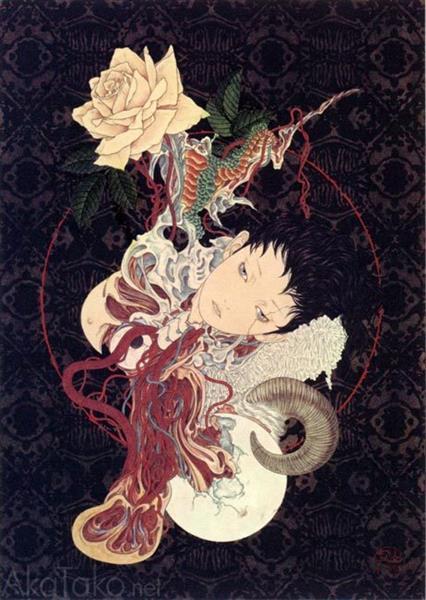 04 February 2021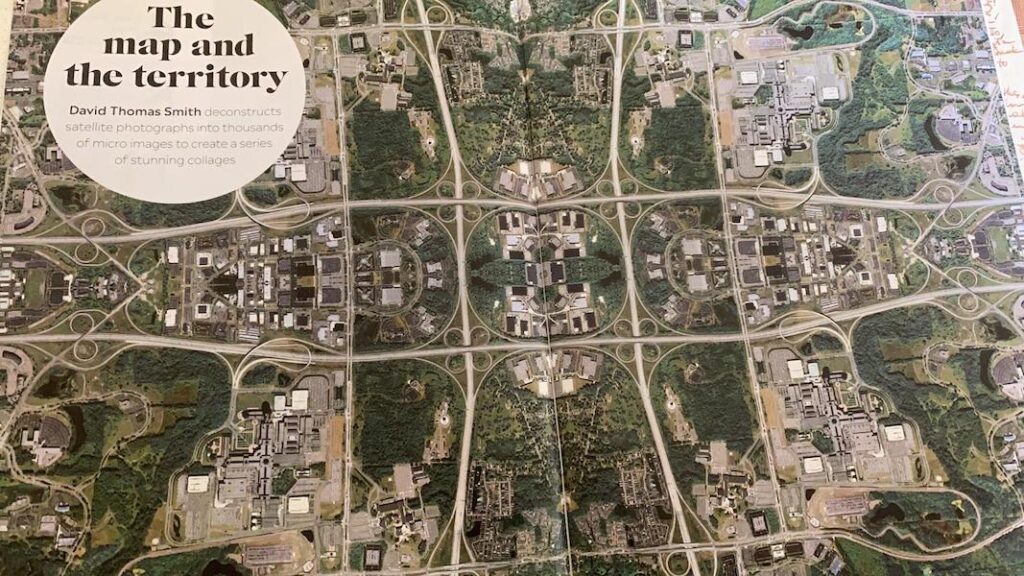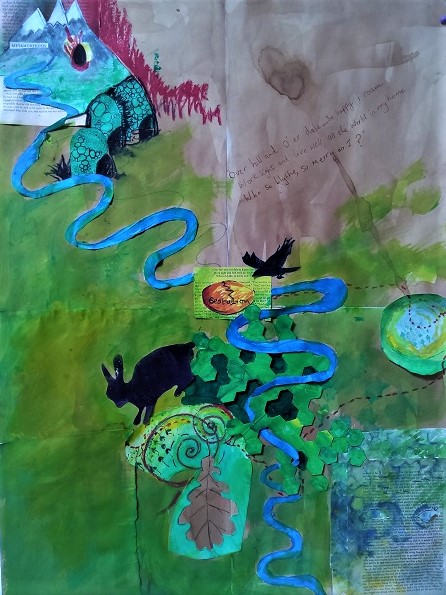 Sylvia: My map- the right side is unfinished thought I'd leave it as waste land with birds flying.
I'm still more attracted by egg, and making something and photographing it.
It's a bit —moomintroll especially the mountains
Next meeting women is 5th March Friday at 10am
We decided to stick with the words seed, egg, meander, female Energy.
*And to if you like choose one and work with it( I have chosen Egg) also we suggested if anyone sees or heard anything that suits these themes to put it out here for others to use in their work 😀
Justyna: Hi Ldies OMG I'm so sorry only woke up now 🙀I overslept the alarm today. Don't know what happened!
Eleanor: Hi Justyna .. we've finished!
Justyna: So sorry
Eleanor: It was just Sylvia and me. Ashleigh couldn't come for family reasons.
Sylvia: map can you do more on this piece we felt it was very strong also use you could use your singing voice ?? Just we thought it was terrific
Justyna: Yes I did more, I did 2 more!
Eleanor: Totally agree with Sylvia about your spiral map! Will send a pic that it reminds me of …
Can you somehow sing that?? Or can it inspire a song?
Justyna: I was got to the studio tomorrow to record some vocals to your track Eleanor but they rang yesterday and cancelled 😞… I have to set up a studio at home now 😉
…Your map Sylvia beautiful!!!!
Sylvia: What we discussed is here on what's app- don't worry about sleep in Just get going on spiral and singing we both think that is 👍Great also Eleanor will send you some medieval music scripts with black square notes which might inspire you X
Justyna: Love medieval square notes!!!
Sylvia: We hoped it might inspire a final piece or go towards a final piece
We are sticking with four words and working with those pick one if you like or all four etc
Meander would suit your spiral Justyna

Justyna: So seed, egg, meander and feminine? Great.
Eleanor: Yes, those words. Hone in on any or all of them for something to contribute to the exhibition. With the map/landscape idea as a context … to move through in the metamorphosis process …
(Can be a physical map or psychological).
Eleanor: The covers of 2 CDs from a group I play in (we did a lot in the late 90s and till 2008, less now…)
Sylvia: Wow exactly 😀
Eleanor: Covers by Lucy Robinson, who plays with us … inspired by medieval music manuscripts and calligraphy…
P. S. I'm planning to use the ideas and material from my maps as a backdrop for 'events' along the way … I'm keeping all 4 words alive for now – I see 'seed', 'egg' and 'meander' as part of a metamorphosis into female energy …
A bit like a tapestry or pageant … representing a psychological journey.
Sylvia: Yes -hard to be definitive yet. I'll try on with egg but previous pyrotechnics in back garden turned ugly lot of smoke n candles but fun 😆 point is it may not work but we give it a thrashing!!haha
I feel happier it's more defined though
---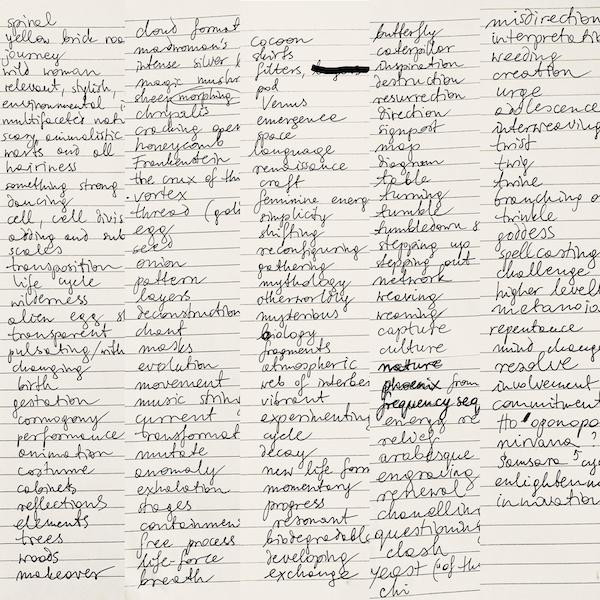 ---
---
"Traveler, there is no path.
The path is made by walking
Traveller, the path is your tracks
And nothing more.
Traveller, there is no path
The path is made by walking.
By walking you make a path
And turning, you look back
At a way you will never tread again
Traveller, there is no road
Only wakes in the sea."
---
– Antonio Machado, Border of a Dream
We started working on a sound piece…. each of us sending our voice, words, music, and other sounds to Eleanor so she can weave us a composition together….
The title, '…pathless land…' emerged. It is a reference to J. Krishnamurti's famous 1929 speech, Truth is a Pathless Land.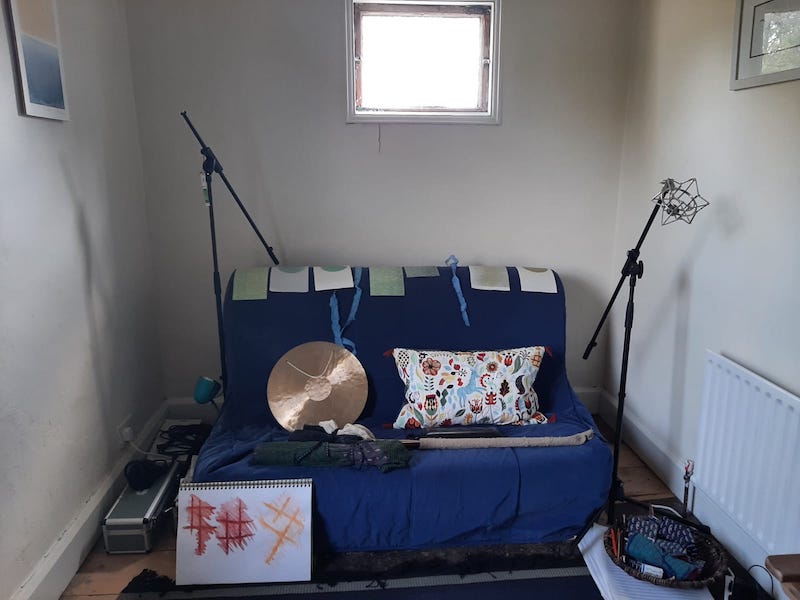 ---
28 May 2021 – Started thinking about how we would like to bring our work together…for the Metamorphosis ArtNet dlr exhibition. We all liked the idea of a Victorian style hand. Here is our first installation specification.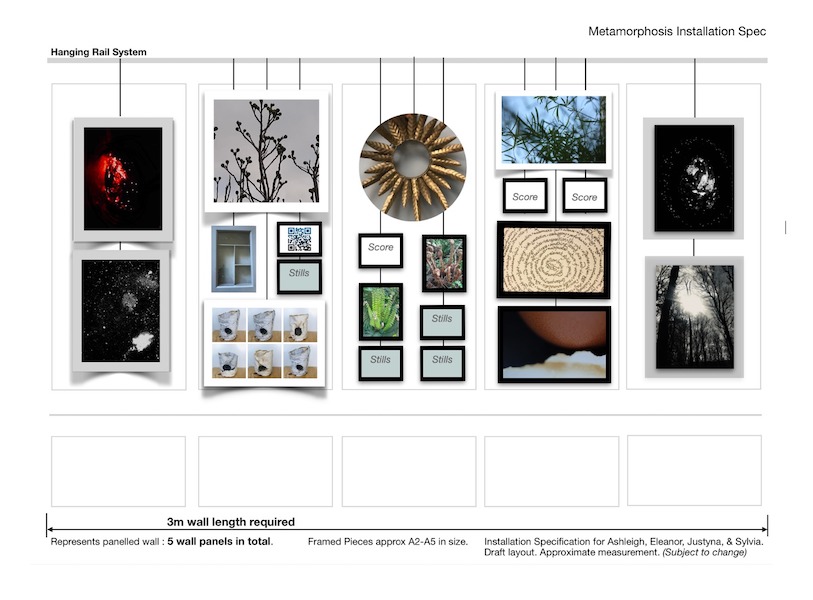 ---
29 June 2021 – Met at Sandycove for the first time since…..can hardly remember….
What a beautiful sunny day it is.
24 August 2021 – Meet up
28 September 2021
Sylvia: Hi are we meeting tomorrow at 11 ??
Justyna: Hi, yes, will love to!
Eleanor: Can we make it 11.30? Getting hair cut at 9 – just in case I have to wait … but yes, come to mine 11.30-1. With all the work!! Xxx
Justyna: Yes sounds fine. Will collect my "swirl" drawing from the framers on the way
Eleanor: Great! Ashleigh, is 11.30 tomorrow OK for you? Also could we please wear masks in the house tomorrow? Think it's probably best to be careful as cases are on the rise again… thanks very much xx
Sylvia: No problem Eleanor – Totally understand X
Justyna: Ok 👍 Thank you for letting us in so we have a space to work together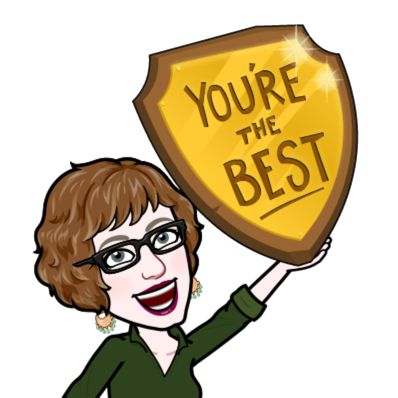 Eleanor: Aw, thanks!!! Xx
Ashleigh: Looking forward to seeing you all tomorrow, 11.30 😀 xx
29 September 2021
Eleanor: So lovely to come together this morning. Great to see you all. Really moving to see it coming together!! It's looking and sounding fantastic. Definitely need a meditative AND and interactive session…And to bring people's awareness to the Web page and our WhatsApp process. We have done SO MUCH!!!! What a journey in our pathless land… xx xx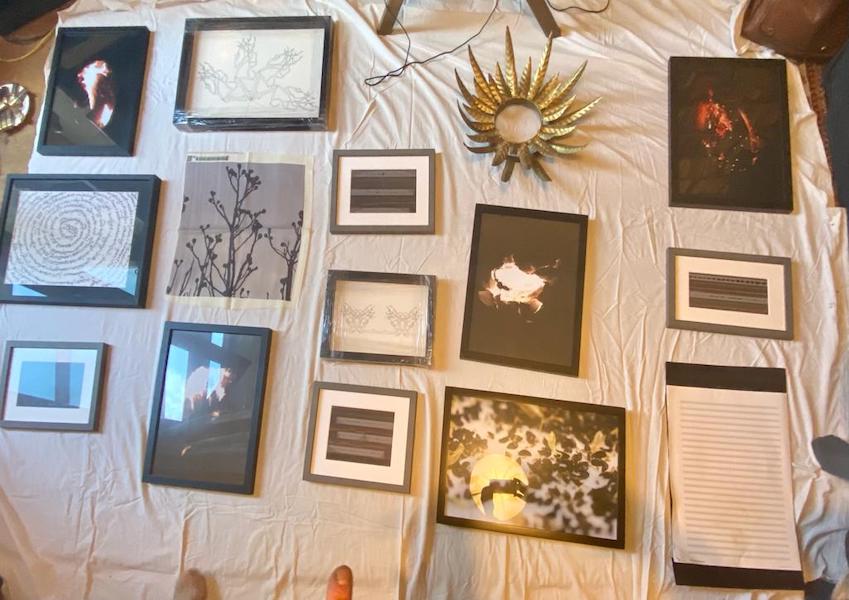 Eleanor: Shame not quite all the work is in there … but we have it in the shots without us.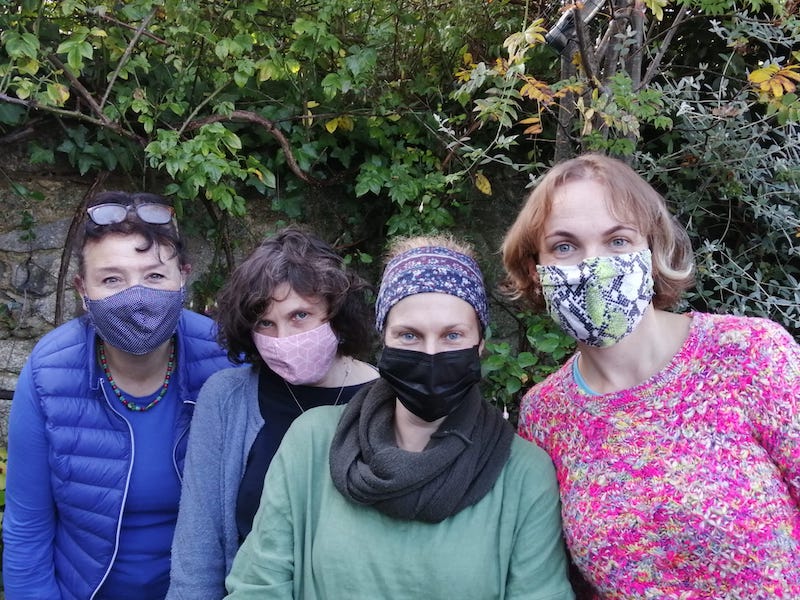 ---
---

A collaboration between Eleanor Dawson, Ashleigh Downey, Sylvia Hill, & Justyna Kosmulska.
Two musicians, a visual artist, and an ecological artist with a socially engaged practice.